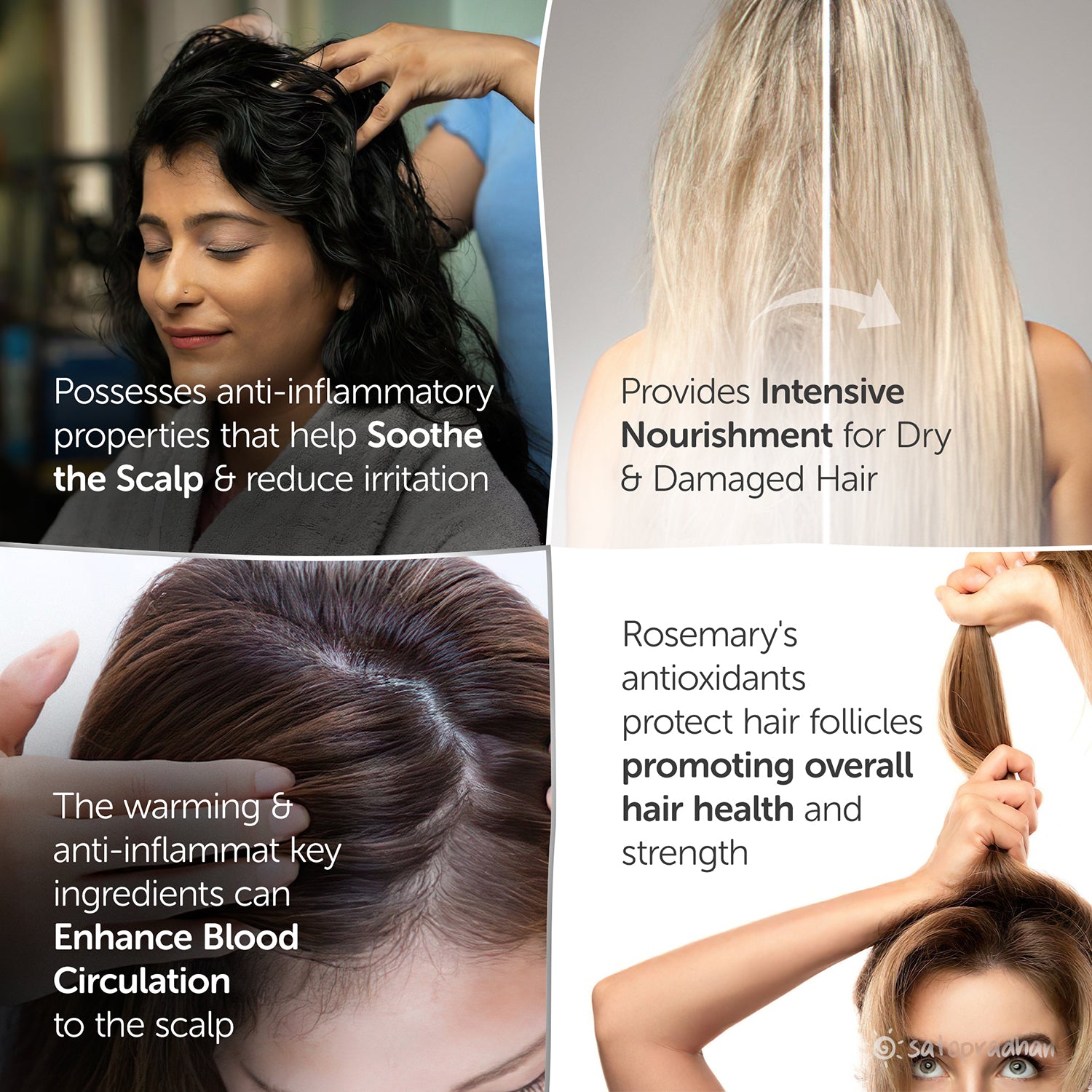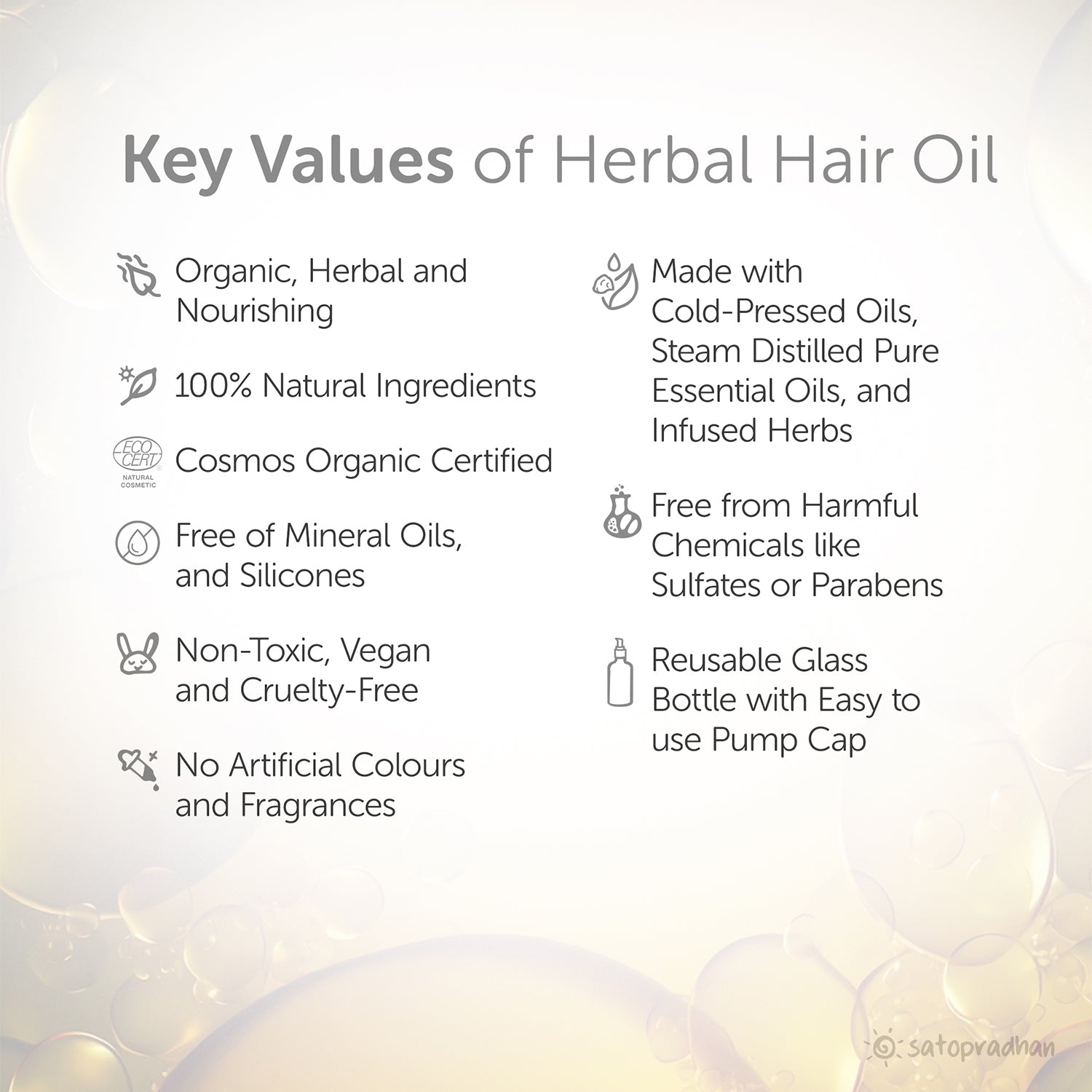 Herbal Hair Oil 100ml | Bakuchi, Kalonji & Rosemary Hair Oil For Growth | Hairfall Control Oil | Oil For Premature Grey Hair | Babchi Hair Oil
Ingredients
Sesame Oil infused with the powders of Bhringraj, Nettle, Bakuchi, Brahmi, Black Pepper, White Pepper, Pippli, and Henna, Cold-Pressed Oils of Kalonji, Bakuchi, Pomegranate, Essential Oils of Cinnamon, Rosemary, Basil and Peppermint
Key Values

Organic, Herbal & Nourishing
100% Natural Ingredients
Cosmos Organic Certified
Free of Mineral Oils, & Silicones
Non-Toxic, Vegan & Cruelty-Free
No Artificial Colours & Fragrances
Made with Cold-Pressed Oils, Steam Distilled Pure Essential Oils, & Infused Herbs
Free from Harmful Chemicals like Sulfates or Parabens
Reusable Glass Bottle with Easy to use Pump Cap
Benefits

Enhances Hair Health: Our blend of Bakuchi, Kalonji, and Rosemary naturally support hair health by enhancing melanin production and possessing anti-inflammatory properties that help soothe the scalp and reduce irritation.
Antioxidant Effects: Rosemary is rich in antioxidants, which can protect hair follicles from oxidative stress and free radical damage. This protection can help maintain the overall health and strength of the hair.
Improved Blood Circulation: The warming and anti-inflammatory attributes of the three key ingredients can enhance blood circulation to the scalp. Better blood flow can provide essential nutrients to the hair follicles, supporting overall hair health.
Intensive Nourishment for Dry and Damaged Hair: Our unique blend of Henna, Pomegranate, and Sesame oil delivers deep nourishment, ensuring your hair stays well-hydrated and conditioned.
Versatile Use: Suitable for all hair types, especially beneficial for those who have dry, damaged, or brittle strands.
Usage:

Divide your hair into manageable sections for even application.
Utilize a dropper or your fingertips to apply the oil directly onto your scalp.
Gently massage the oil in circular motions. Begin at the front of your scalp and gradually work your way towards the back. This promotes healthy blood flow.
After thoroughly covering your scalp, extend the application to the length of your hair, paying extra attention to any dry or split ends.
Following these steps ensures an effective and revitalizing application, nurturing both your scalp
Note:
Apply the oil prior to using our Satopradhan Cold Processed Shampoo Bar, as a natural alternative to chemical-based shampoos. Depending on your hair type and the oil's thickness, you may find it beneficial to shampoo twice to ensure complete removal of any oil residue

Although Our Hair Oil is Formulated Without Harsh Chemicals, We Recommend Conducting a Patch Test Before Use to Ensure Compatibility with Your Skin. If Irritation Occurs, Discontinue Use.
Shelf Life
Best before 2 Years if stored properly
very good
Its smell very refreshing, My hair fall almost reduced after using this, my family members also loving it. Keep it up Satopradhan.
Hair Oil
Very good product hair oil
Wonderful!!
Loved the herbal oil made with all natural ingredients!! Best part is that it is non-sticky and comes out easily while washing it with a shampoo bar. Loving the chemical free products!!