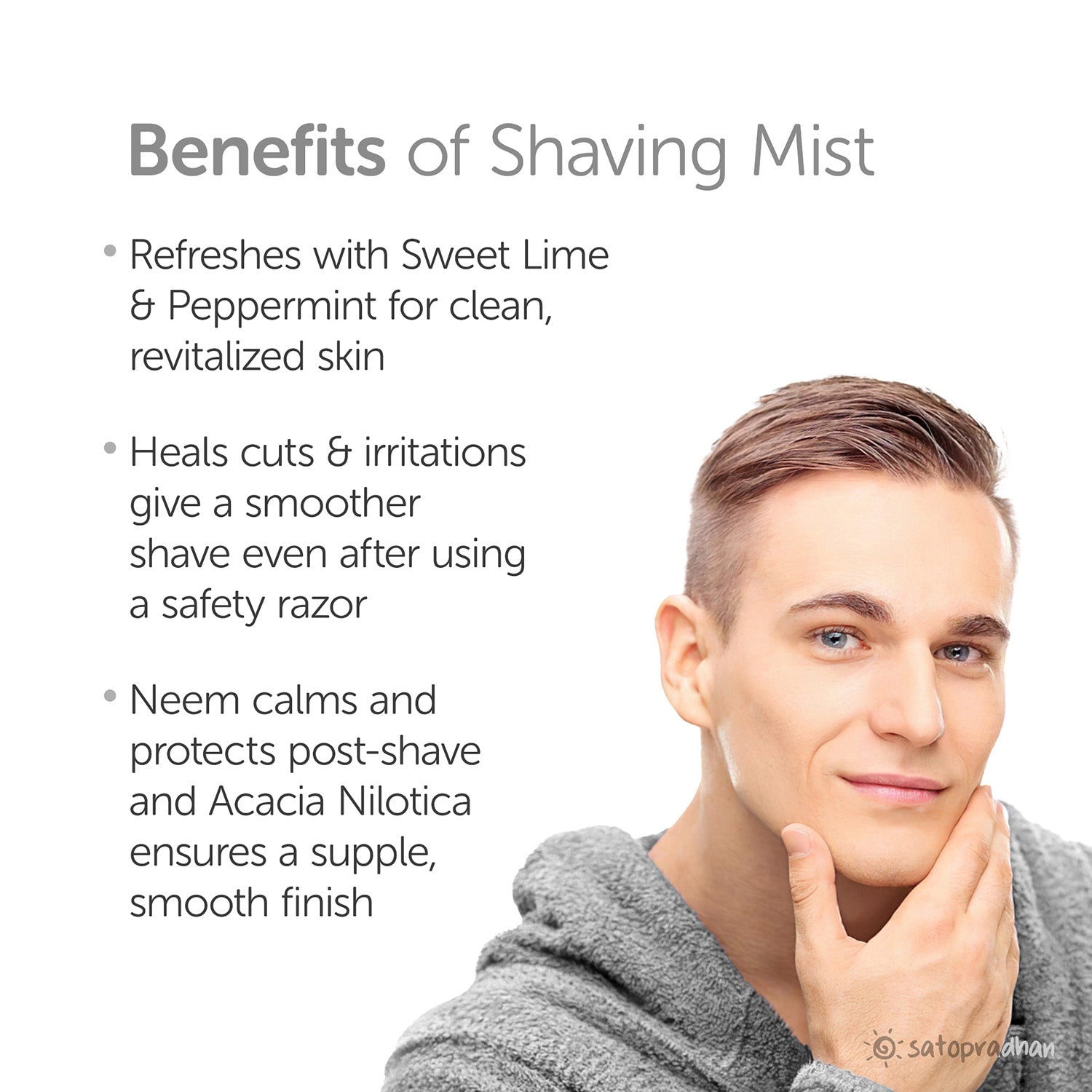 Shaving Mist | Refreshing After Shave Lotion for Men and Women 100ML- Sweet Lime & Vinca Rosea | Shaving Spray | Herbal & Organic | Antiseptic Mist | Alcohol Free
Ingredients
Steam distilled water of Sweet Lime, Neem, Vinca Rosea (Sadabhaar Flower/Periwinkle), Peppermint, & Acacia Nilotica (Babool/Kikar)
What is Shaving Spray?
A shave skin spray is a product used after shaving to soothe and hydrate irritated skin while also acting as an antiseptic to prevent infections from any minor cuts. It provides a convenient, quick, and refreshing way to care for the skin post-shave, often leaving behind a pleasant fragrance and a refreshed feeling
 Key Values
Cosmos Organic Certified

Ideal for Men & Women

Chemical-Free formulation

No Artificial Colours & Fragrances

Healing & Refreshing Properties

Reusable glass bottle with spray cap

Gentle for all skin types

Antiseptic Properties 
Benefits
Refreshes with Sweet Lime & Peppermint for clean, revitalized skin.

Heals nicks and irritations for a smoother, irritation-free shave.

Neem calms and protects post-shave and Acacia Nilotica ensures a supple, smooth finish.
Usage
Pre-Shave

: Spray the mist onto the desired shaving area to hydrate and prep the skin.

Post-Shave

:

Spray evenly on shaved areas. Close eyes to avoid irritation or apply to palms,

and

then pat it onto your face for a more controlled application.

Let the mist absorb into the skin. Do not rinse.
Elevate your shaving routine with the natural Satopradhan Shaving Bar, ensuring a smooth and moisturized skin every time you shave.
Note
While our Aftershave spray is formulated with pure herbs water, it's advisable to conduct a patch test before full application. If irritation occurs, discontinue use immediately. 
Storage
Store it in a cool, dry place, away from direct sunlight.

Shelf Life
Best before 2 Years if stored properly.