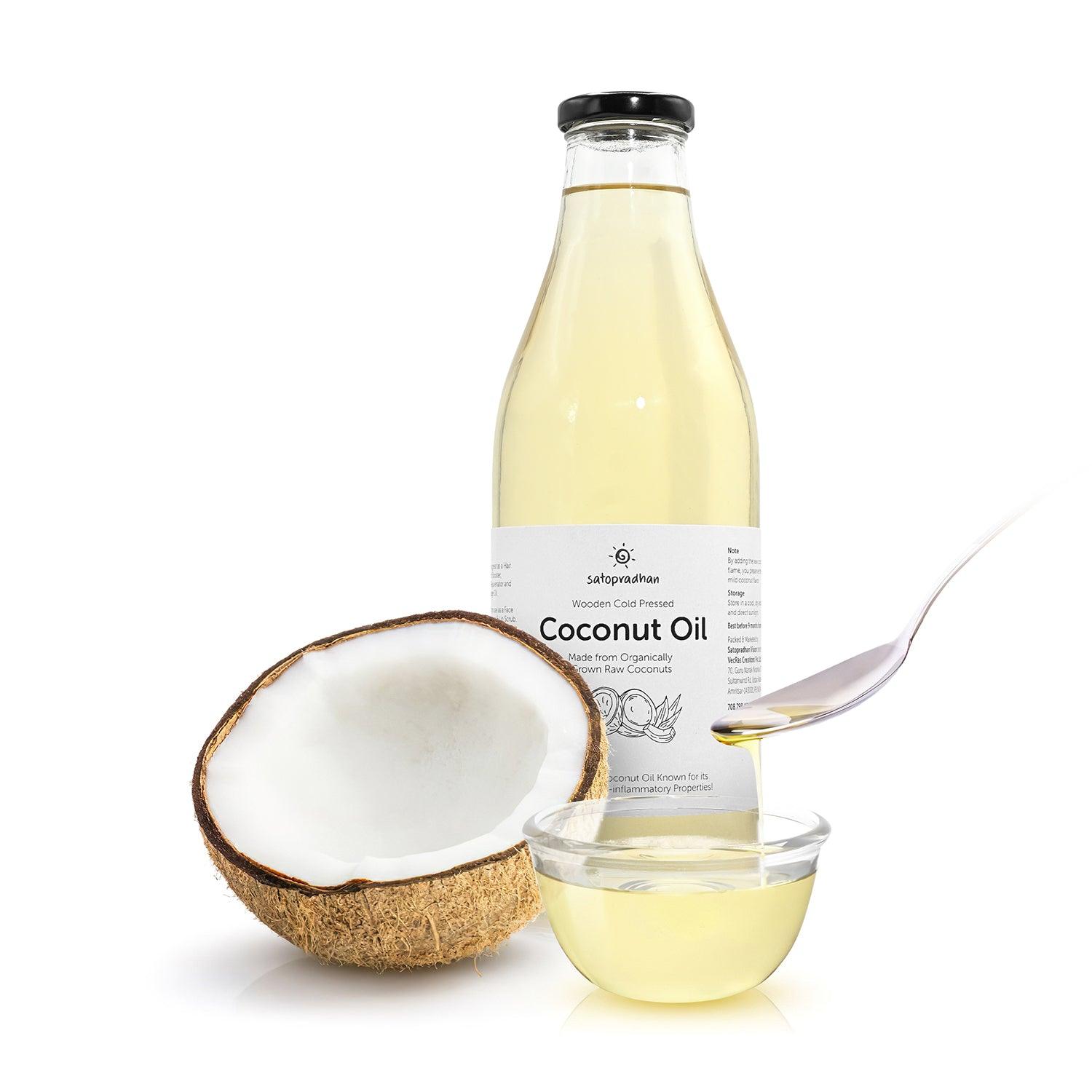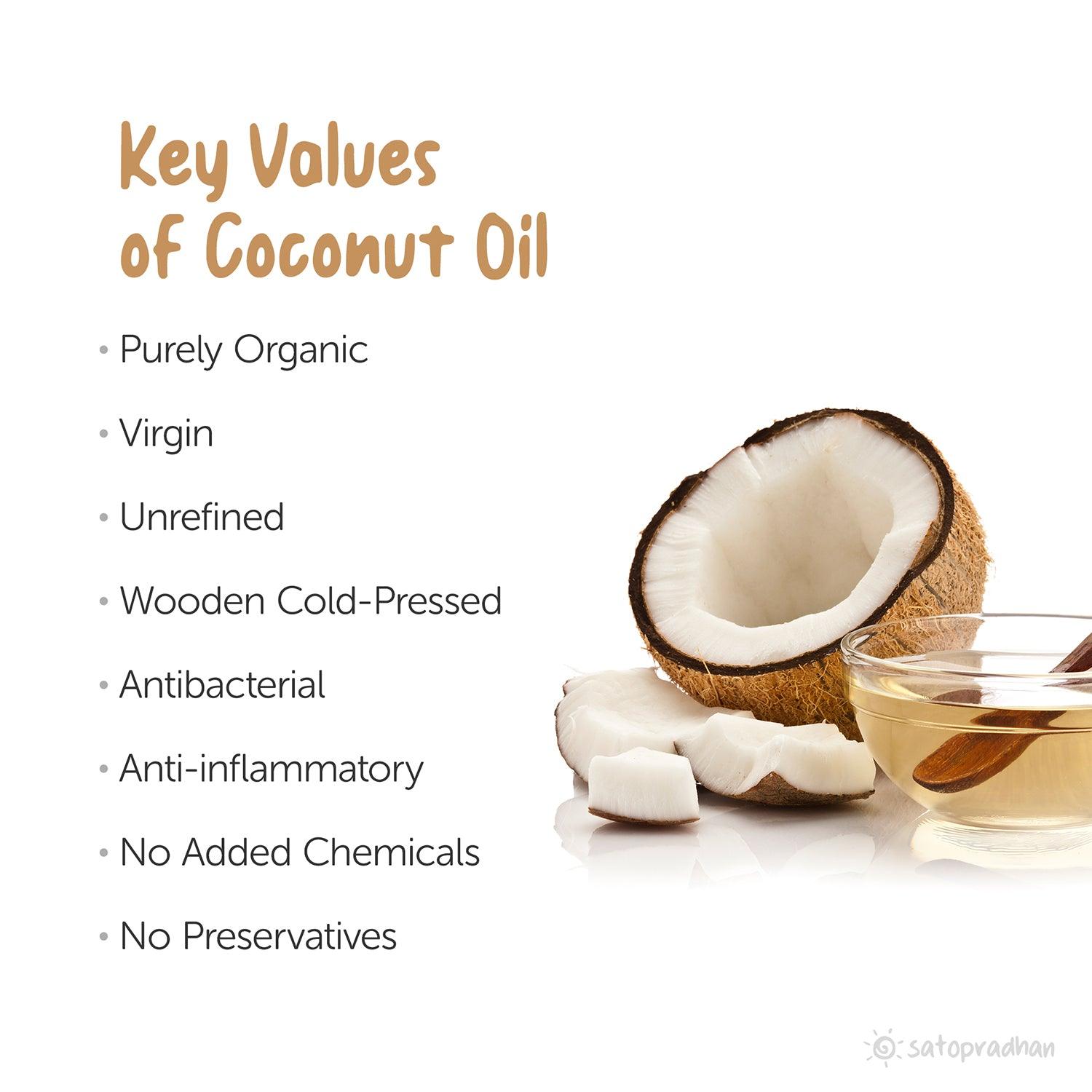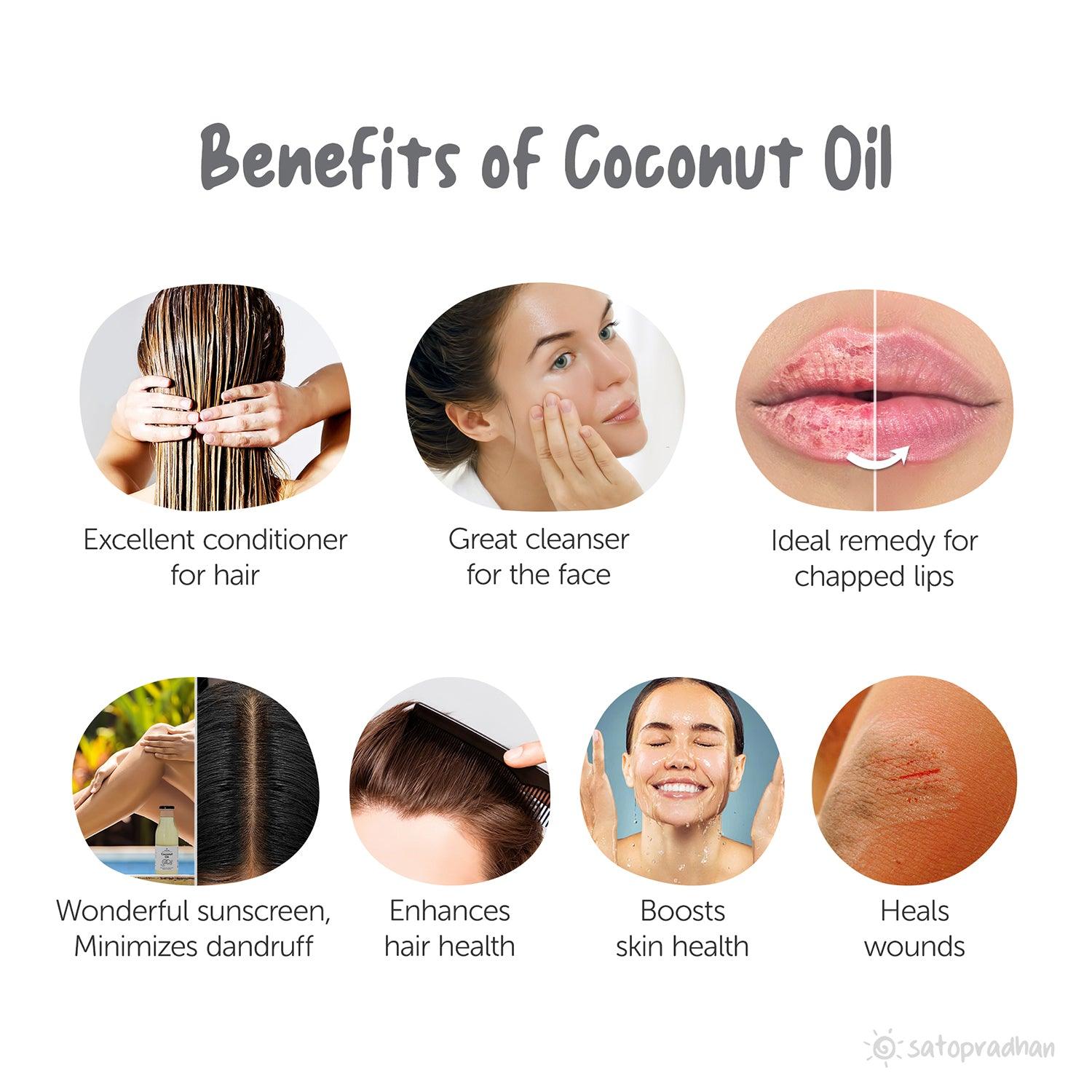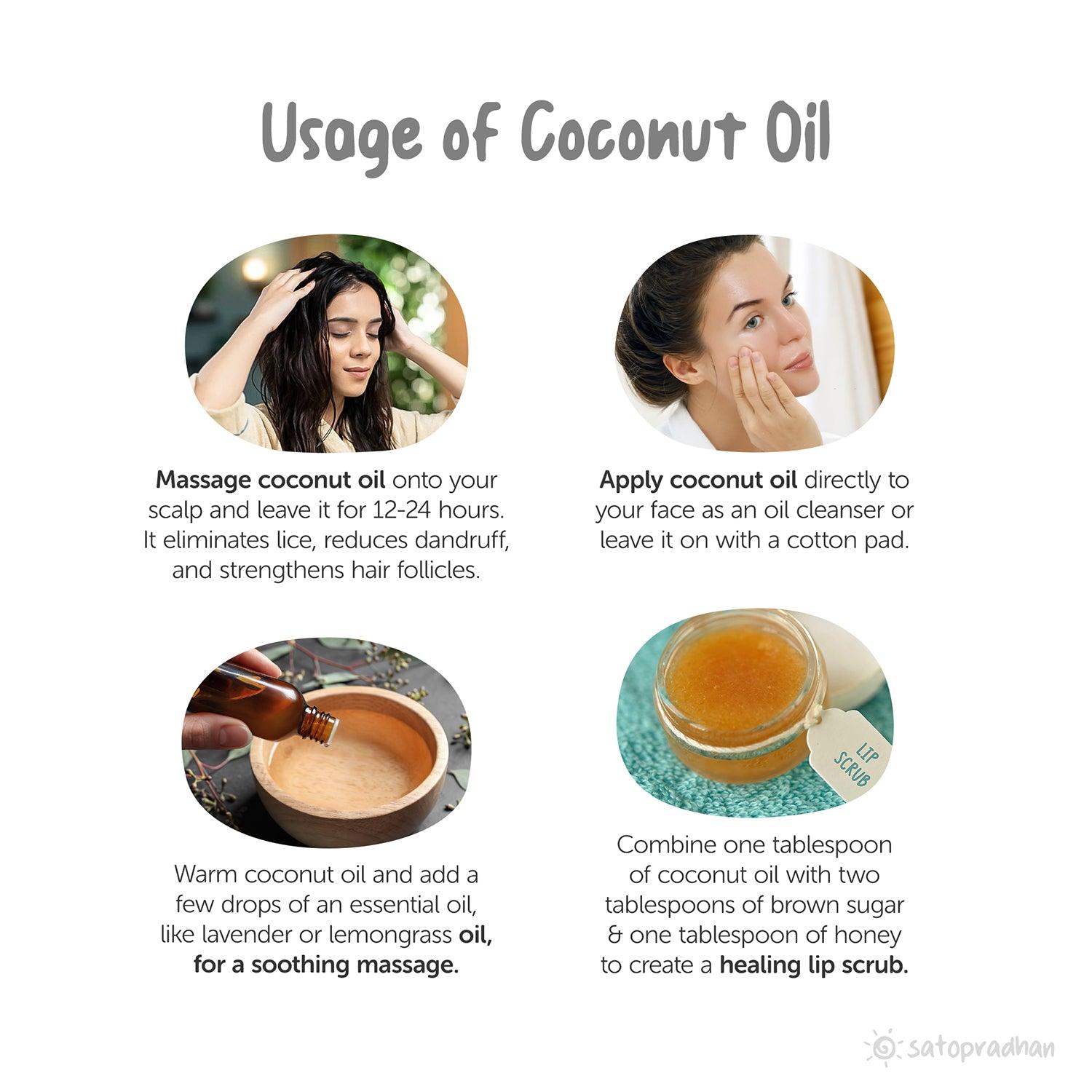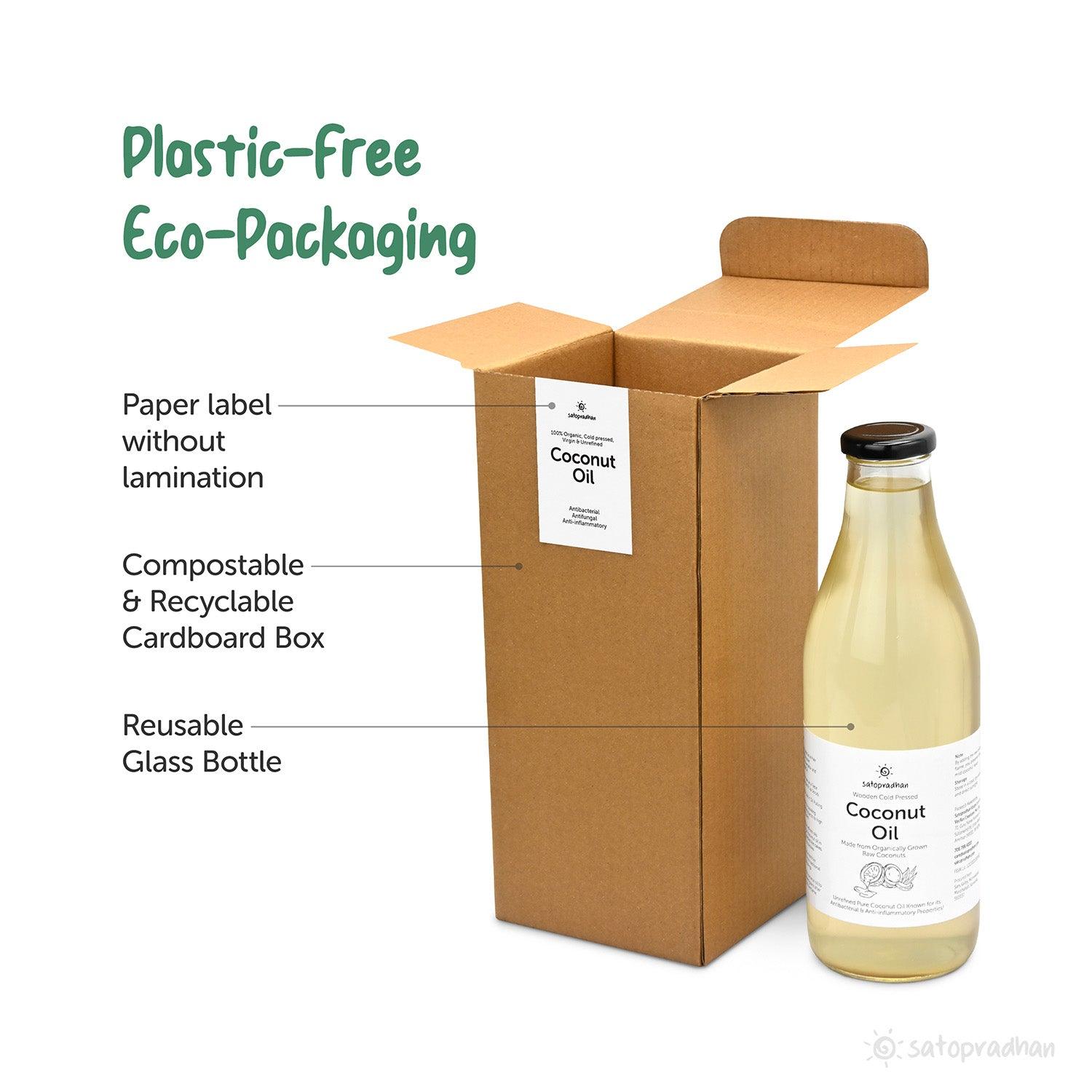 Coconut Oil - 100% Organic, Virgin & Wooden Cold-pressed 1000ml Multipurpose Oil Without Chemicals in a Reusable Glass Bottle (Kachi Ghani)
Ingredients
Natural & Organic Coconut Oil
Key values

Purely Organic
Virgin
Unrefined
Wooden Cold-Pressed
Medium Smoke Point 35

0°F

Antibacterial
Anti-inflammatory
No Added Chemicals
No Preservatives
Why is it used?
Moisturizing Qualities - Effectively moisturizes dry skin and reduces inflammation

Antibacterial Properties - Eliminates germs in the mouth leading to improved oral health

Anti-inflammatory Properties - Rich in antioxidants and thus help reducing the inflammation in the body
Benefits
Enhances hair conditioning

Helps reduce dandruff

Boosts skin health by reducing inflammation

Soothes and moisturises chapped lips

Facilitates wound healing due to its antibacterial properties

Excellent sunscreen due to abundance of Vitamin-E

Facilitates wound healing
How is this coconut oil different from others?
Most coconut oils in the market undergo extensive processing, known as RBD (refined, bleached, and deodorized). This involves high heat, filtering, and the addition of additives to ensure consistency. These oils are derived from dried coconut meat called "copra," which is aged and stored for future use.
However, Satopradhan's coconut oil is 100% organic, virgin, and unrefined. It is extracted using a traditional wooden cold-press method, which ensures that the oil retains its natural qualities and benefits. There are no additives or preservatives used in the production process, allowing the oil to be in its purest form.
Applications of Coconut oil
Hair Health Booster:

Massage coconut oil onto your scalp and leave it for 12-24 hours. It eliminates lice, reduces dandruff, and strengthens hair follicles.

Face Moisturizer:

Apply coconut oil directly to your face as an oil cleanser or leave it on with a cotton pad. Even stubborn waterproof makeup will dissolve.

Massage Oil :

Warm coconut oil  and add a few drops of an essential oil, like lavender or lemongrass oil, for a soothing massage.

Lip Scrub :

Combine one tablespoon of coconut oil with two tablespoons of brown sugar and one tablespoon of honey to create a healing lip scrub.

Oil Pulling :

Swish coconut oil in your mouth to draw out disease-causing bacteria and enjoy fresher breath.

Wound Healer :

Coconut oil soothes infections and flaking skin caused by Athlete's foot and helps heal cracked heels.

Healthy Substitute to Refined Oils:

Use it for sauteing veggies, in baked goodies or as a healthier alternative to traditional oils in dressings.

Enhancing Cooked Grains

: Add virgin coconut oil to hot, cooked grains after turning off the flame.
NOTE: By adding the raw coconut oil after switching off the flame, you preserve the oil's nutritional properties and delicate coconut flavor
Storage
Store in a cool, dry & dark place away from moisture & direct sunlight.
Shelf Life
Best before 9 months from the date of packaging.
Have any questions? Click here
Swear by their oils, I'm telling you guys 🌟💘
Using it on my face daily, after bathing, the first and only thing I put on my face is coconut oil & sunscreen after that. (here is a request :- please launch your sunscreens) I use it for my hair, my face, my body, my lips, for cleaning off my makeup sometimes, it's just multipurpose. I love it. thanks. also launch small bottles for people to buy and try them first. (another request :- please launch rosemary oil , olive oil etc )
COCONUT OIL
Best coconut oil in such a reasonable price.
Great! I love the texture & authenticity of the coconut oil.
Coconut Oil - 100% Organic, Virgin & Wooden Cold-pressed 1000ml without Chemicals in a reusable glass bottle (Kachi Ghani)
Superb
Very much satisfied with the quality of coconut oil