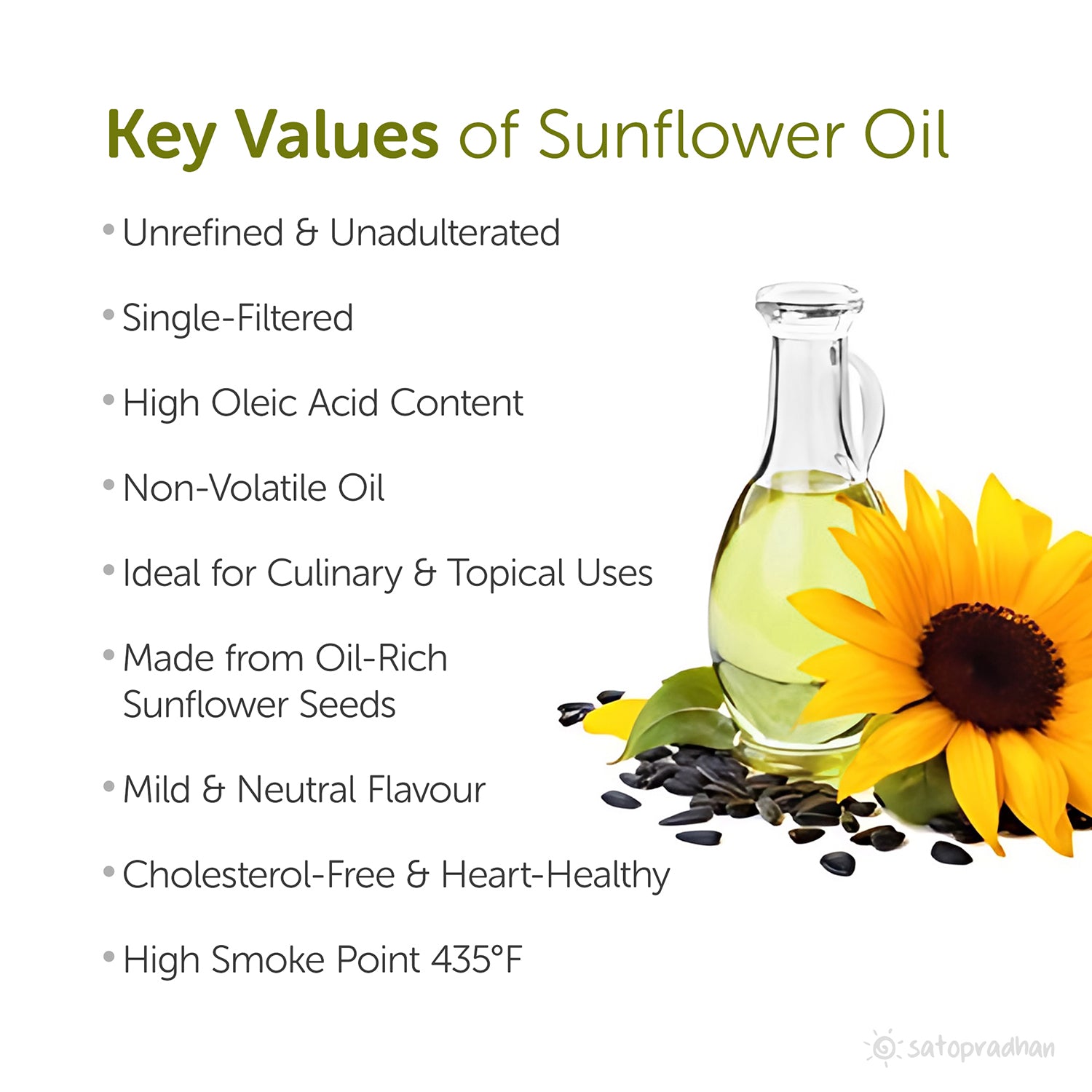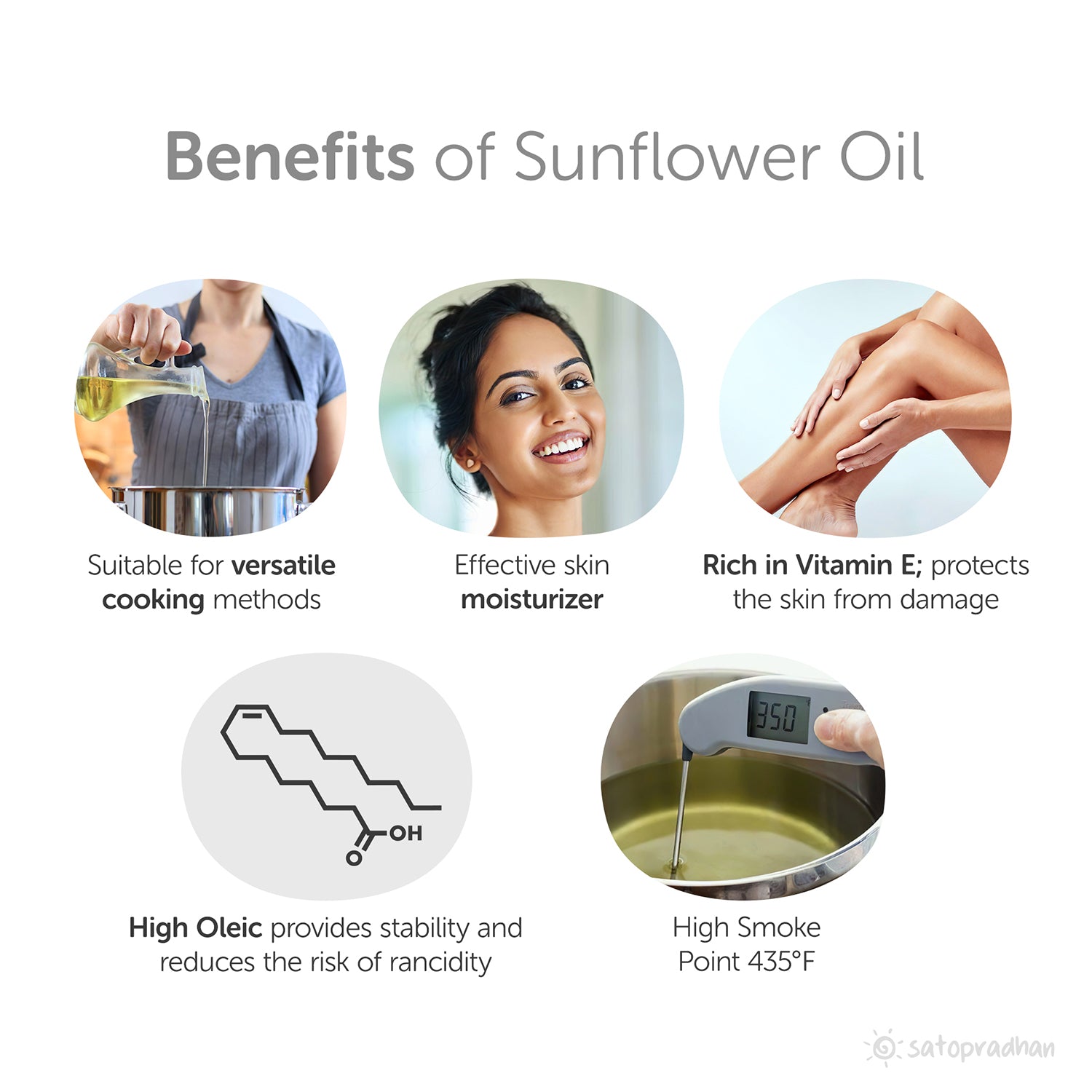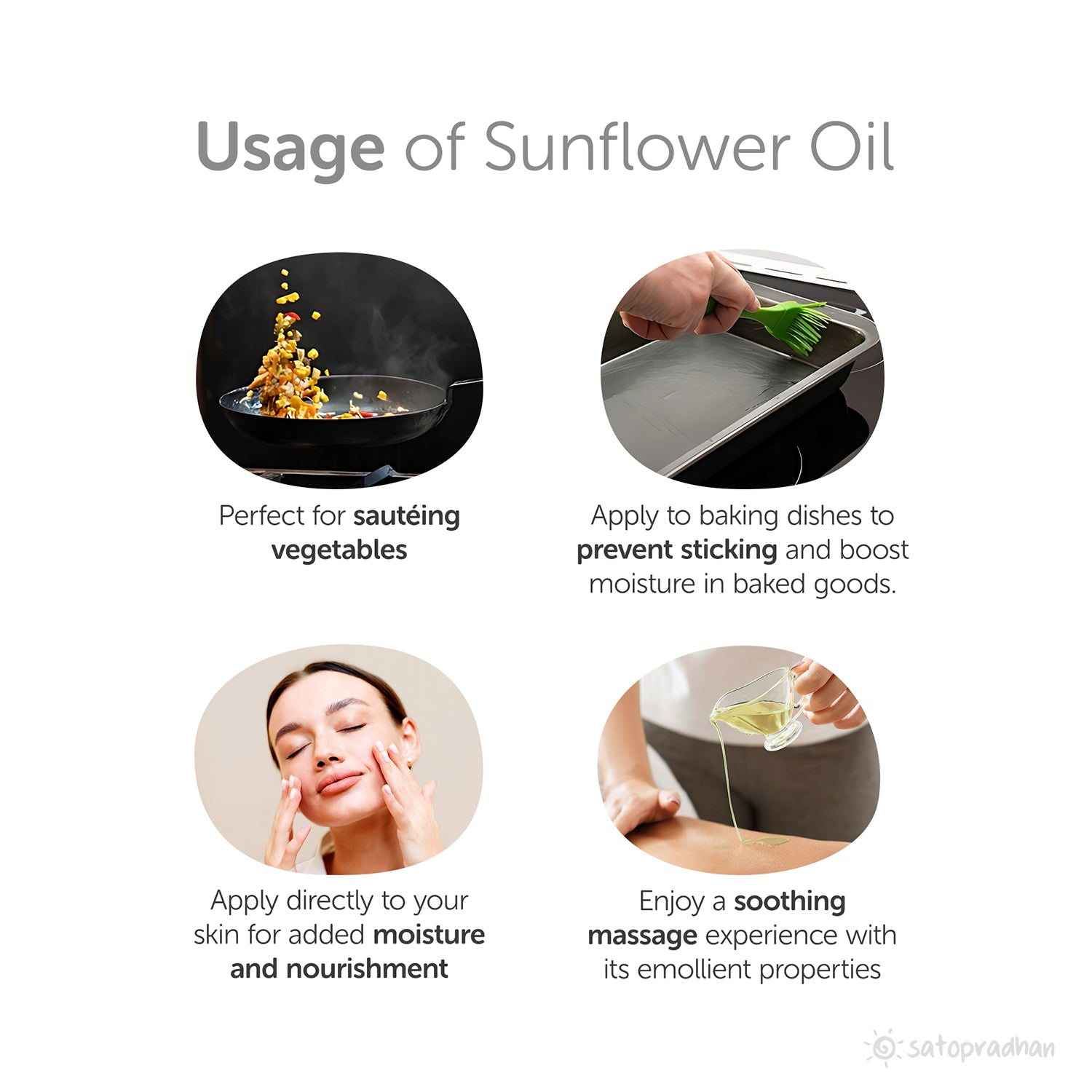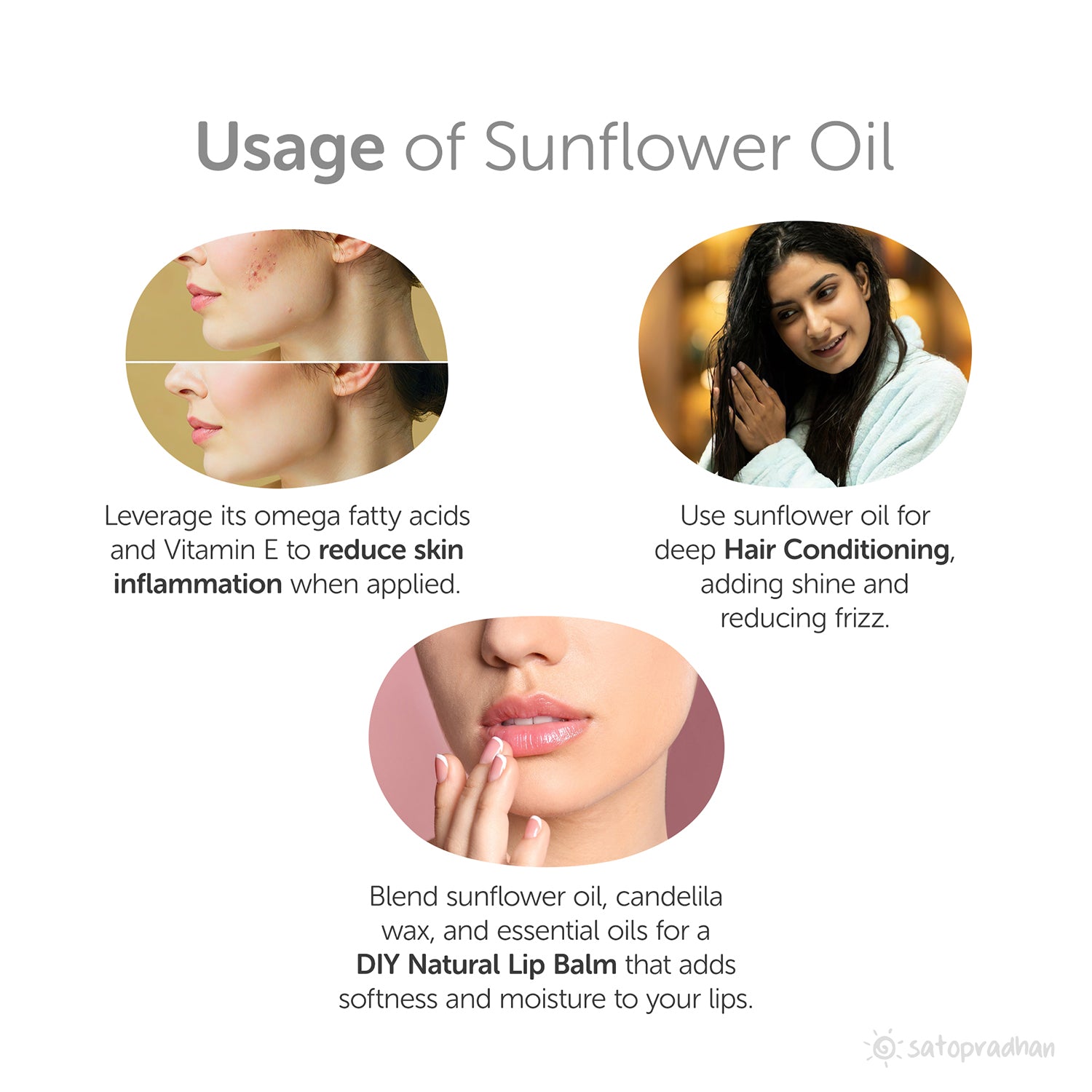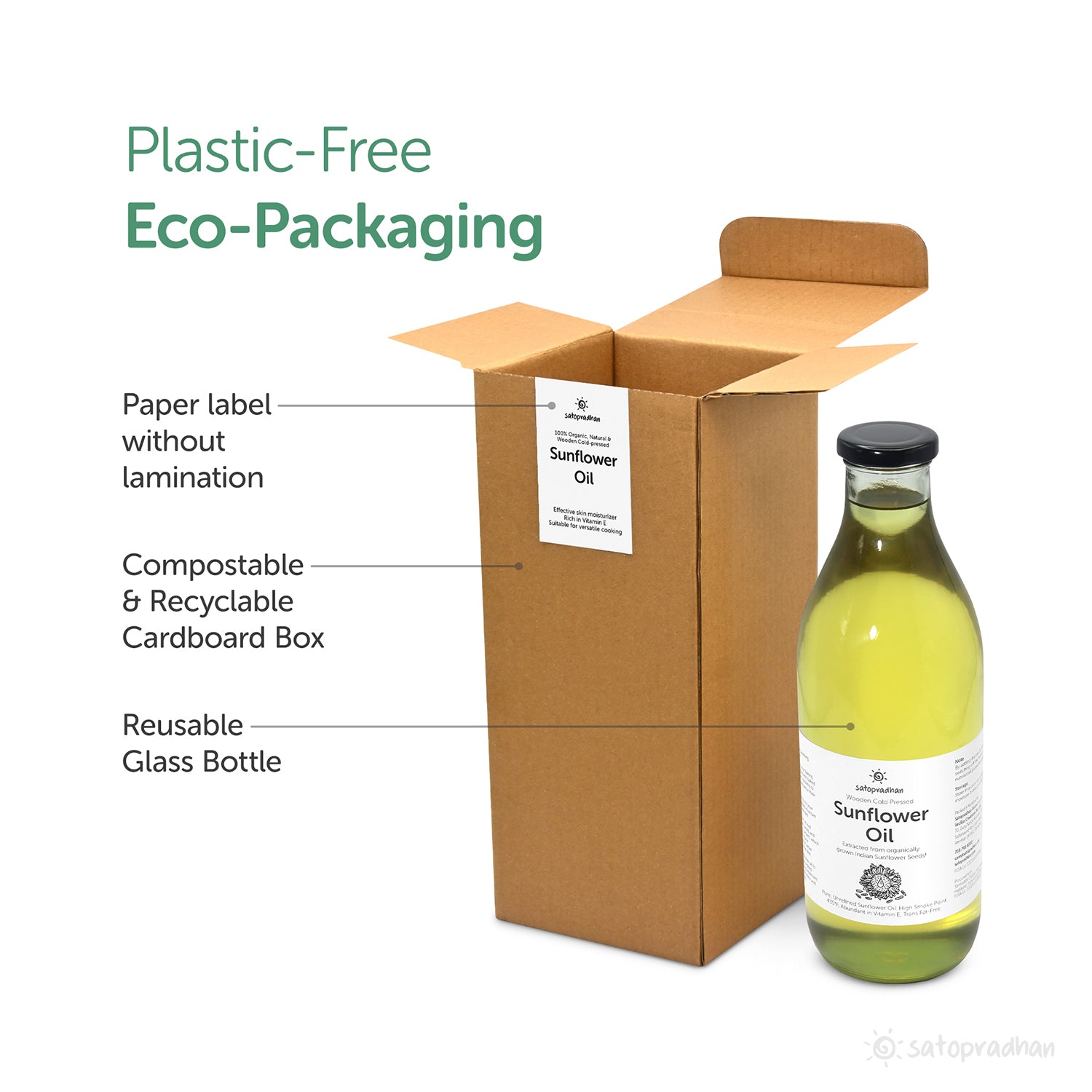 Organic Sunflower Oil 1000ml - Pure, Unrefined, Single-Filtered, Virgin & Wooden Cold-pressed (Kacchi Ghani) without Preservatives | Reusable Glass Bottle | High Oleic Acid |
435°FIngredients
Natural & Unrefined Sunflower Oil

Key values
High Smoke Point 

435°F

Unrefined & Unadulterated
Single-Filtered
High Oleic Acid Content
Non-Volatile Oil
Ideal for Culinary & Topical Uses
Made from Oil-Rich Sunflower Seeds
Mild & Neutral Flavour
Cholesterol-Free & Heart-Healthy

High Smoke Point 435°F
Benefits

Helps reduce Bad Cholesterol due to abundance of monounsaturated and polyunsaturated fats
Suitable for versatile cooking methods due to its high smoke point
Effective skin moisturizer due to Vitamin E
Promotes cardiovascular health with the help of Monounsaturated fats
Being non-comedogenic, sunflower oil is unlikely to clog pores, making it an excellent choice for skincare products that won't lead to breakouts.
Sunflower oil's balanced fatty acid profile supports weight management by providing a source of healthy fats that can help control appetite.
The high oleic acid content enhances its stability, reducing the risk of rancidity and extending its shelf life.
How is this Sunflower oil different from others?
Most Sunflower oils in the market undergo extensive processing, known as RBD (refined, bleached, and deodorized). This involves high heat, filtering, and the addition of additives to ensure consistency.

However, Satopradhan's Sunflower Oil is 100% pure, organic, virgin, single-filtered and unrefined. It is extracted using a traditional wooden cold-press method, which ensures that the oil retains its natural qualities and benefits. This oil is rich in High Oleic fatty acid (Monounsaturated fat) and is known for its stability and high smoke point of 435 degrees which makes it suitable for various cooking methods. There are no additives or preservatives used in the production process, allowing the oil to be in its purest form.

Applications of Sunflower Oil

High-Temperature Stability: Sunflower oil's remarkable stability at high temperatures makes it perfect for sautéing, roasting, and baking without degrading.
Effective Makeup Remover: Gently apply sunflower oil directly to your face to remove makeup, or use a cotton pad for effortless makeup removal.
Nourishing Massage Oil: Experience its moisturizing benefits as a soothing massage oil for your skin.
Healthy Cooking Alternative: Opt for sunflower oil when sautéing vegetables, preparing baked goods, or seeking a healthier substitute for traditional oils in salad dressings.
Flavorful Grains: Elevate the taste and moisture of hot, cooked grains like rice or quinoa by adding a drizzle of raw sunflower oil after cooking.
Hair Nourishment: Sunflower oil can be applied to your hair as a conditioning treatment, promoting moisture retention and imparting a healthy shine.
Stability at High Temperature: Its stability at high temperatures makes it ideal for sautéing, roasting, and baking without degrading easily.
Face Moisturizer: Apply the sunflower oil directly to your face as an oil cleanser or leave it on with a cotton pad.
Massage Oil: It is used as a massage oil to help moisturize the skin
Skin-care: Incorporate it in your daily skin-care lotions or creams to soothe skin
Healthy Substitute to Refined Oils: Use it for sauteing veggies, in baked goodies or as a healthier alternative to traditional oils in dressings.
Enhancing Cooked Grains: Add virgin sunflower oil to hot, cooked grains after turning off the flame.
NOTE: To preserve the nutritional properties and retain a mild sunflower flavor, add it after turning off the flame
If you are in the healing stage or working to reverse an illness, it is advisable to avoid the consumption of any type of edible oil.
Storage
Store in a cool, dry & dark place away from moisture & direct sunlight.

Shelf Life
Best before 9 months from the date of packaging.

5 Star
High quality and best price
This quality is to much good
Organic Sunflower Oil 1000ml - Pure, Unrefined, Single-Filtered, Virgin & Wooden Cold-pressed (Kacchi Ghani) without Preservatives | Reusable Glass Bottle | High Oleic Acid |