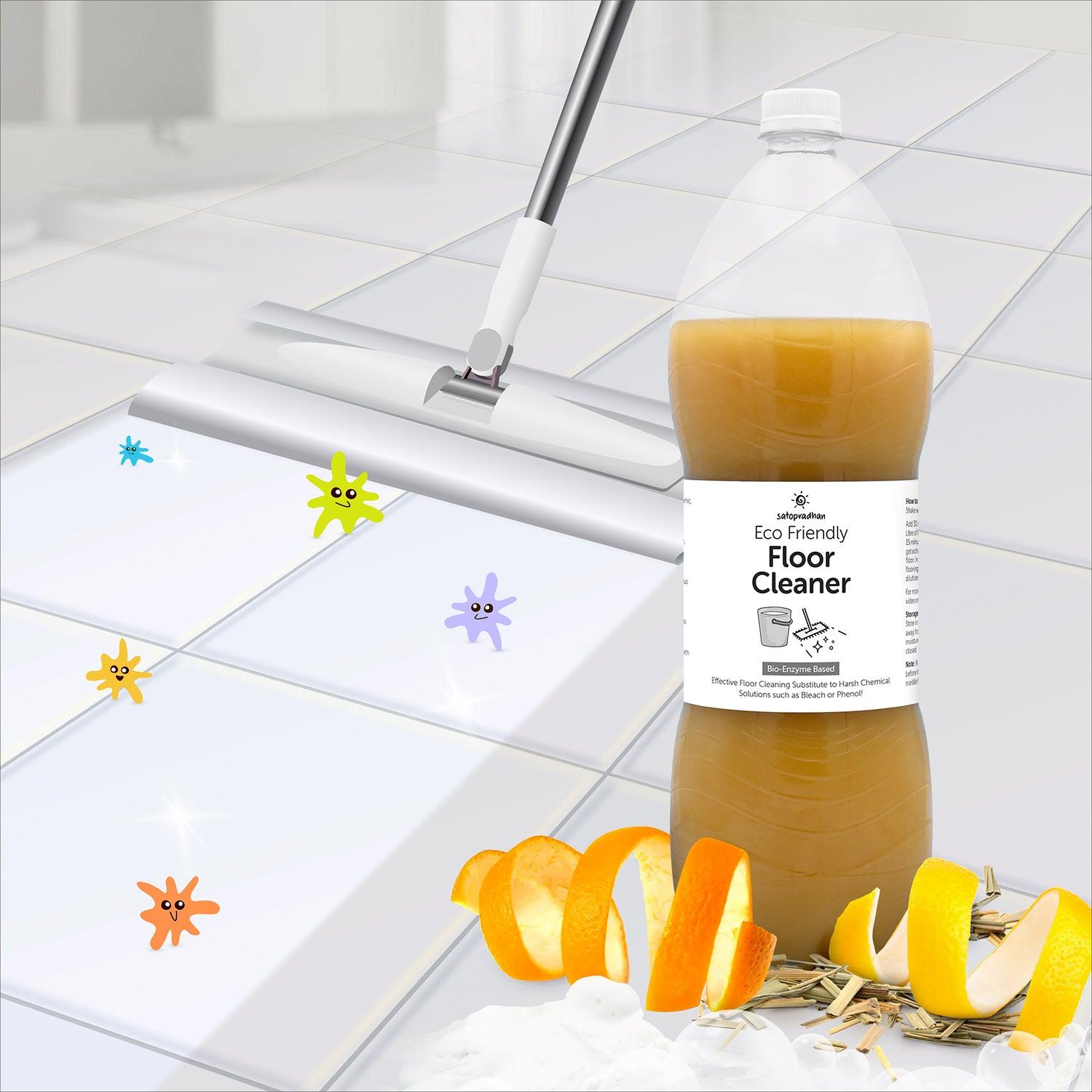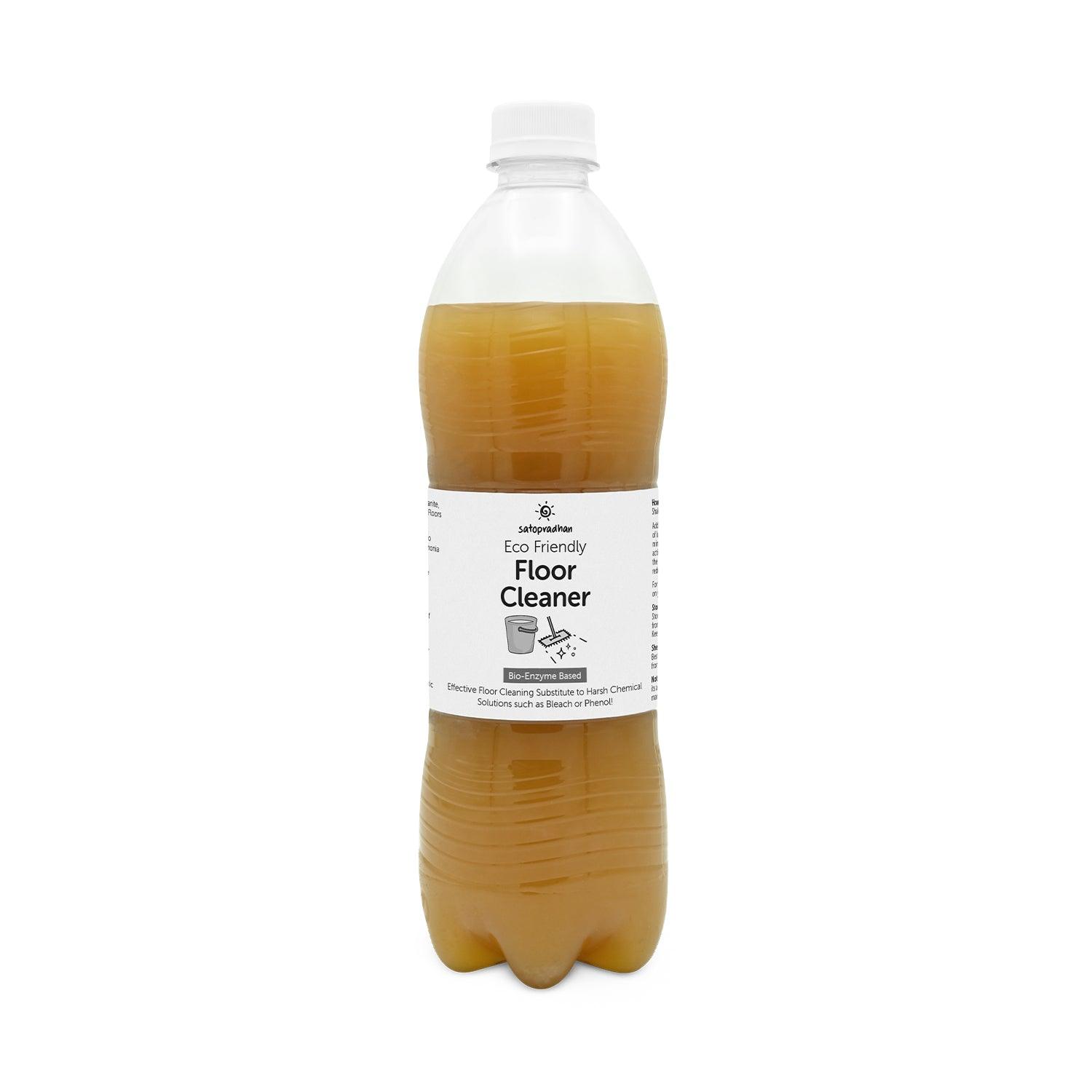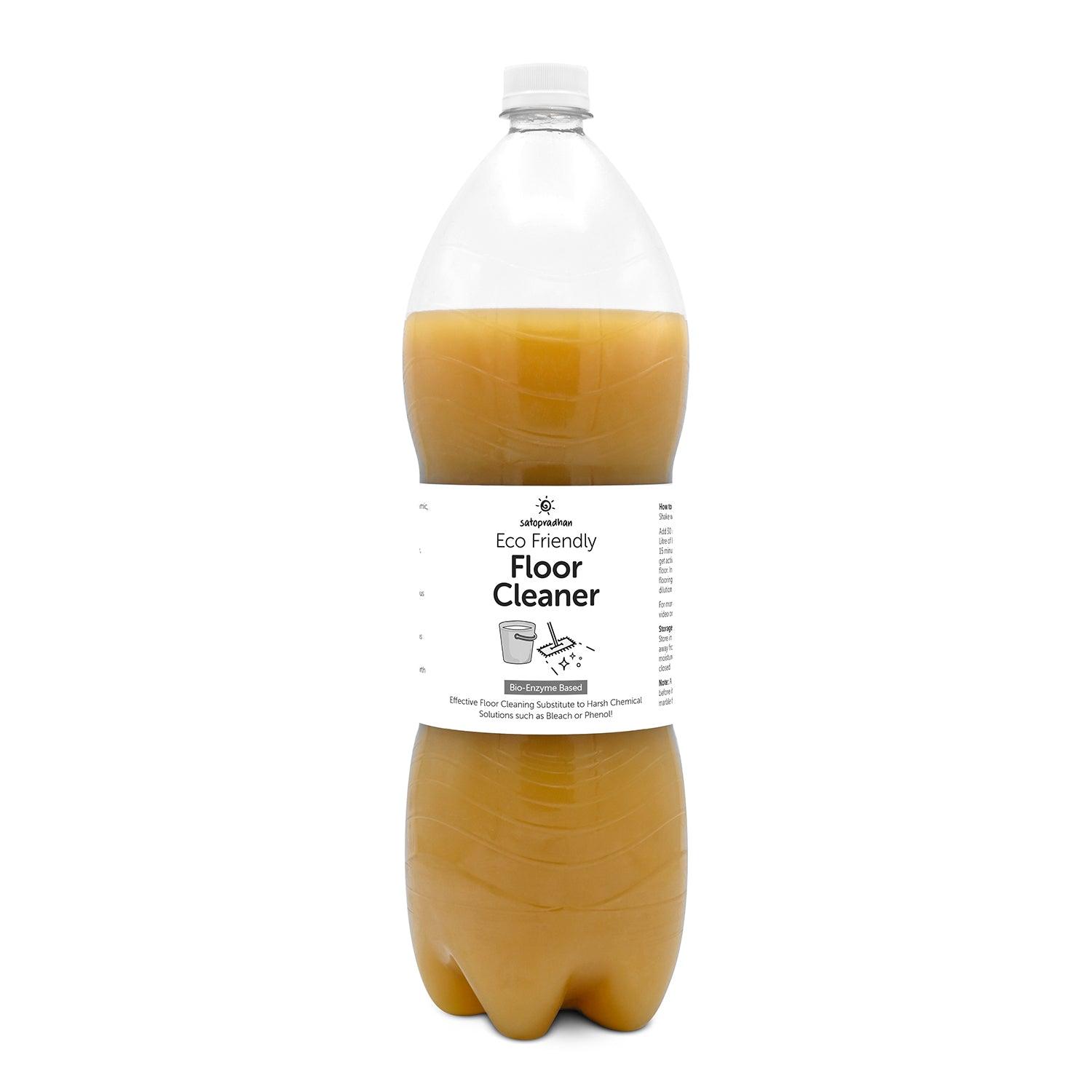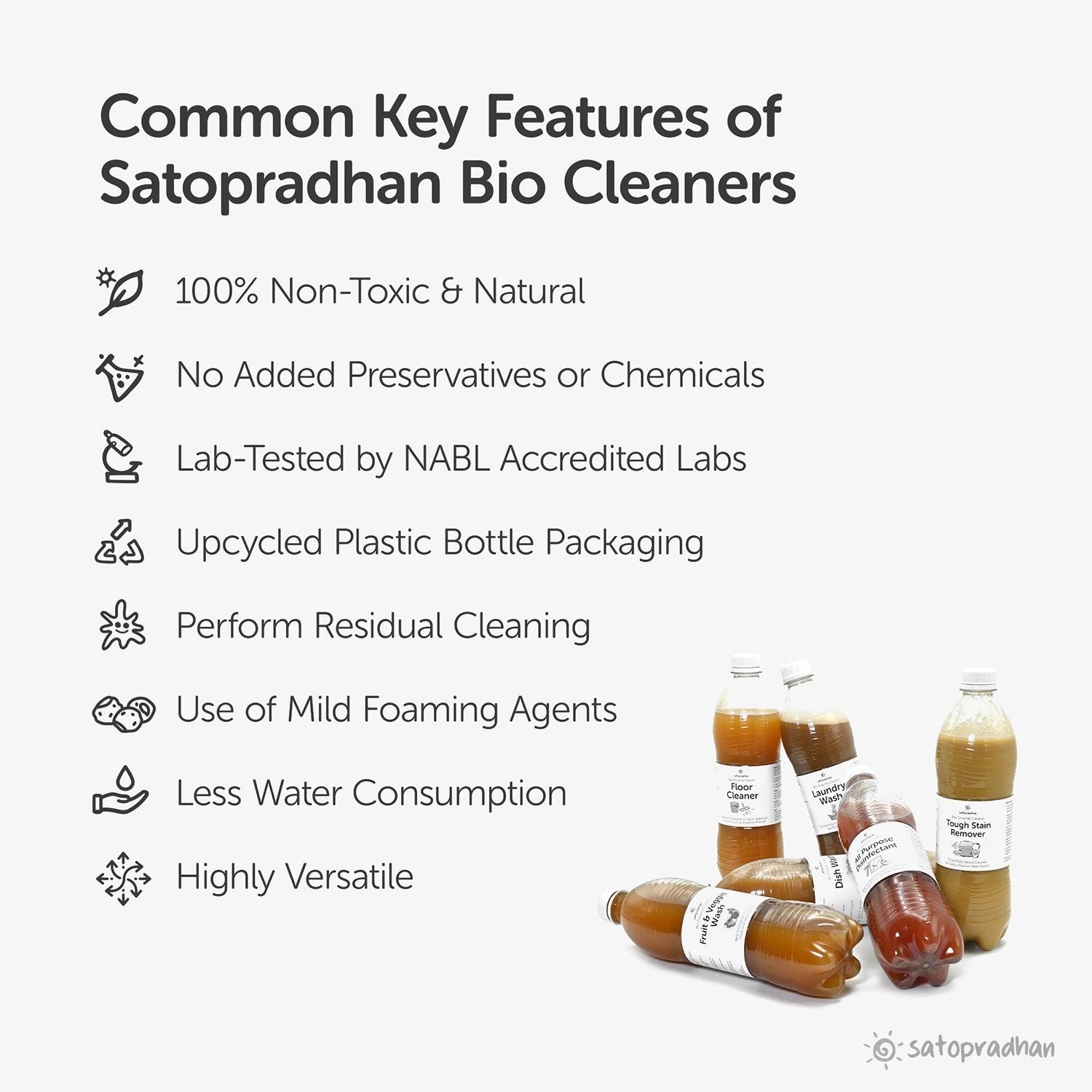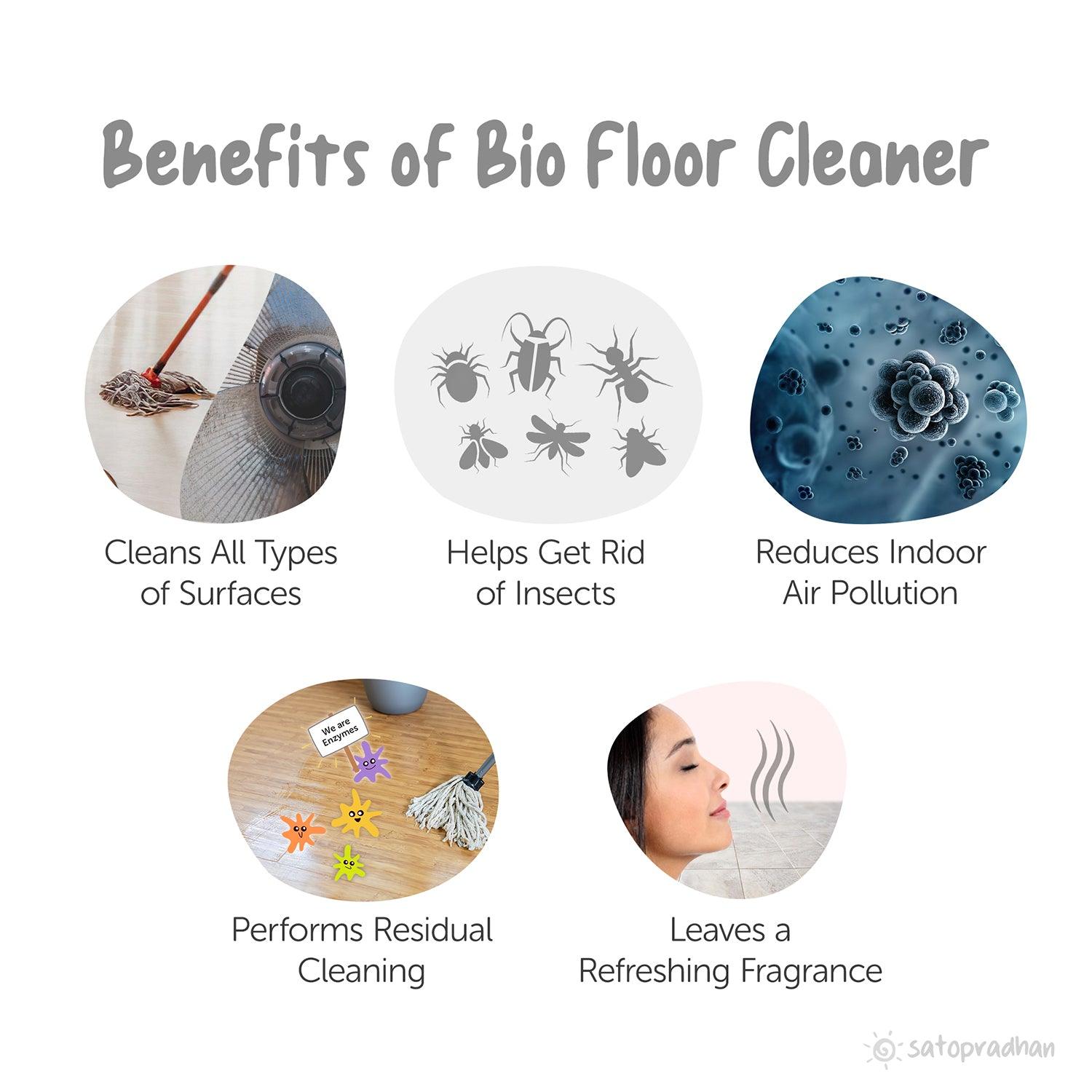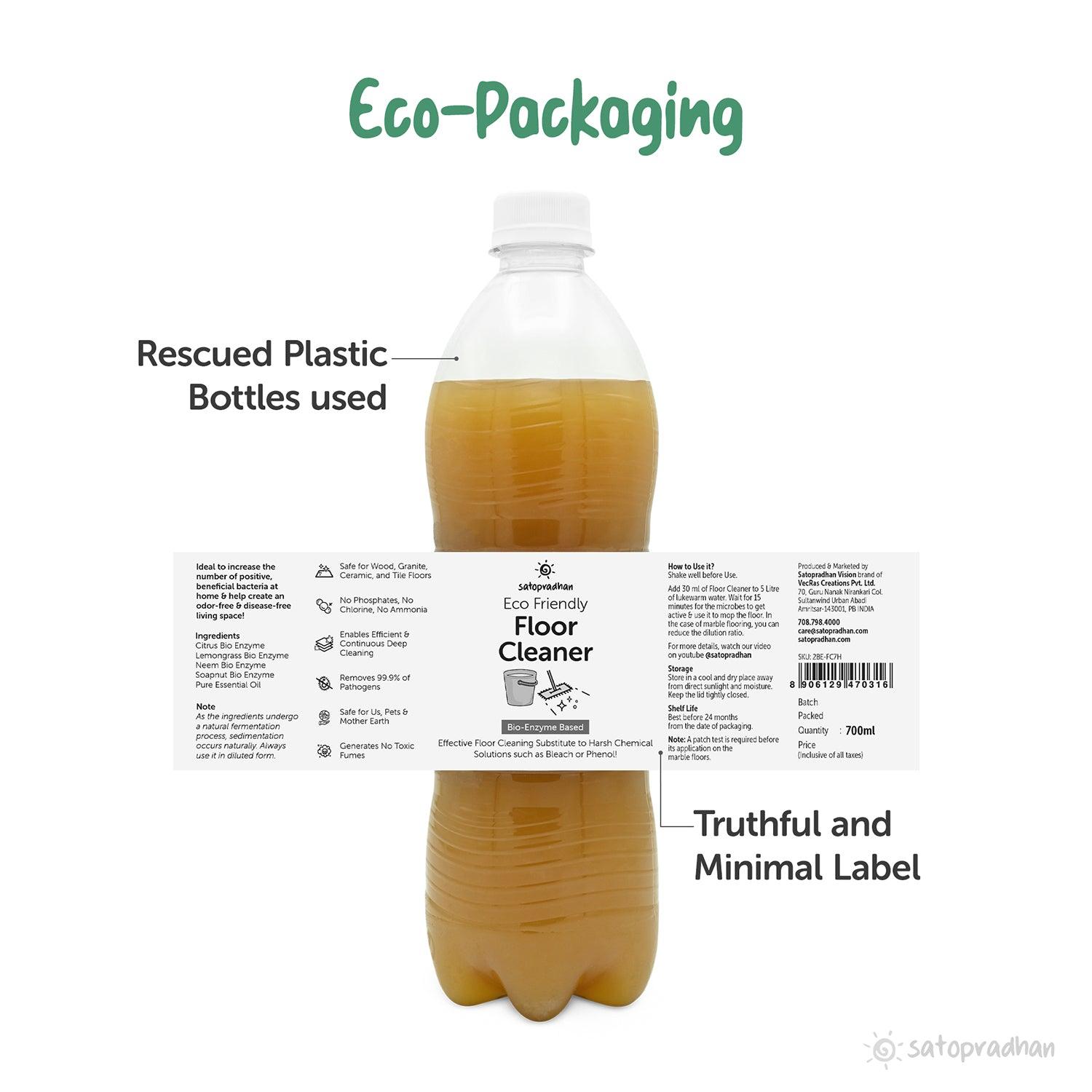 Eco Friendly Floor Cleaner 700ml & 1.9kg | Bio Enzyme Floor Cleaner | Pet Friendly
Bio enzyme floor cleaner helps remove stains, kill bacteria, deactivate germs, and keep your floors clean without any sticky residue. It is enriched with the antibacterial properties of lemongrass and insect-repelling properties of neem & camphor with a refreshing mint fragrance.
Ingredients
Citrus Bio Enzyme
Lemongrass Bio Enzyme
Neem Bio Enzyme
Soapnut Bio Enzyme
Camphor
Pure Essential Oil
Key Features

Prepared Naturally with Pure Vibrations
Safe for Wood, Granite, Ceramic, and Tile Floors
No Phosphates, No Chlorine, No Ammonia
Removes 99.9% of Pathogens
Tested & Certified by NABL Accredited Labs
Safe for Us, Pets & Mother Earth
Upcycled Plastic Bottle Packaging
Note: A patch test is required before its application on marble floors.
Benefits

Cleans All Types of Surfaces: The bio enzyme-based floor cleaner helps remove the stains, dust & grime from every nook and corner of the house without any sticky residue. The microbes can enter the smallest cracks and crevices, which even chemical-based cleaners cannot reach. They are suitable for cleaning all surfaces but may require a patch test before using them on marble floors.
Helps Get Rid of Mosquitoes: The pest-repelling properties of lemongrass, neem, and camphor make it perfect for getting rid of certain mosquitoes, insects, and drain flies.
Reduces Indoor Air Pollution: The natural floor cleaner helps reduce the number of VOCs produced indoors, purify the air and hence reduce indoor air pollution. It helps clean your living space without releasing any damaging VOCs.
Performs Residual Cleaning: The microbes in the non-toxic floor cleaner keep on working until all the stains & dust completely disappears i.e. it keeps on working even after the floor has been cleaned.
Leaves a Refreshing Fragrance: Satopradhan floor cleaner fills every corner of your house with a refreshing mint aroma due to the Use of 100% pure essential oils.
How to Use it?
Shake well before Use. Add 30 ml of Floor Cleaner to 5 Litre of lukewarm water & use it to mop the floor. In the case of marble flooring, you can use less of the cleaner with the same amount of water.

Storage Instructions: Store in a cool and dry place away from direct sunlight and moisture. Keep the lid tightly closed.
Shelf Life: This concentrate is naturally self-preserving & usually does not have an expiration date.
Note: Sedimentation occurs naturally as the ingredients undergo a natural fermentation process. Always use it in diluted form.
Eco-Friendly Note: We played our part by repurposing the wasted plastic bottles; now it's your turn to send them for recycling after use :)
Best Organic Floor Cleaner Ever
Namaste,
This is exactly what I was looking for. The floor becomes super clean, no fumes, no odor, no burning sensation on feet. It was a joyful feeling to mop the floor with this cleaner. Post which the same used water was served to plants 🤩.
Go for it, worth the bucks, worth for the Environment
Pranam 🙏🏾
Eco Friendly Floor Cleaner 700ml & 1.9kg | Bio Enzyme Floor Cleaner | Pet Friendly
All the products are awesome and serves the purpose of environmental protection.
Its best toilet cleaner compared to chemical ones
Best compared to chemical one in the market
Products from Satopradhan