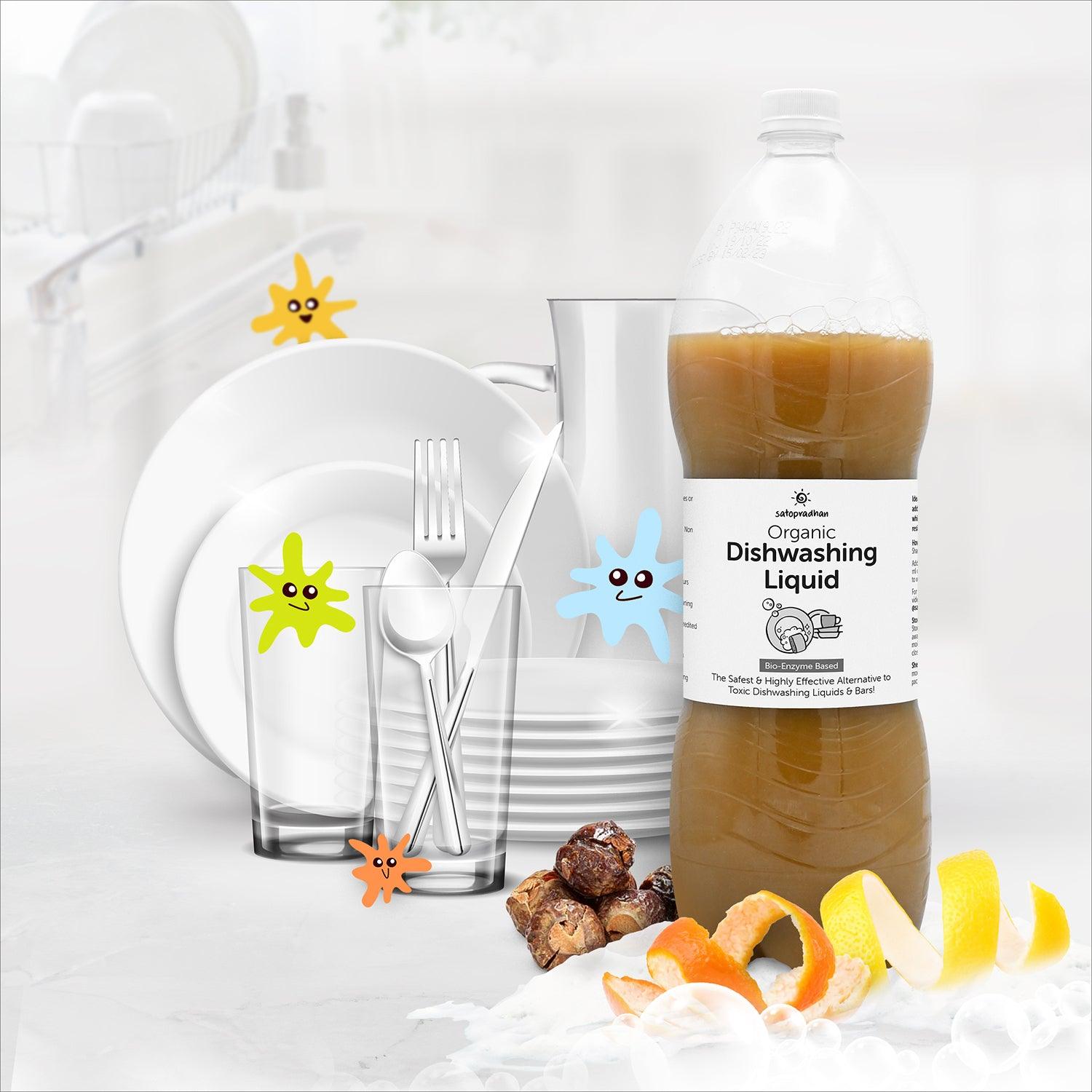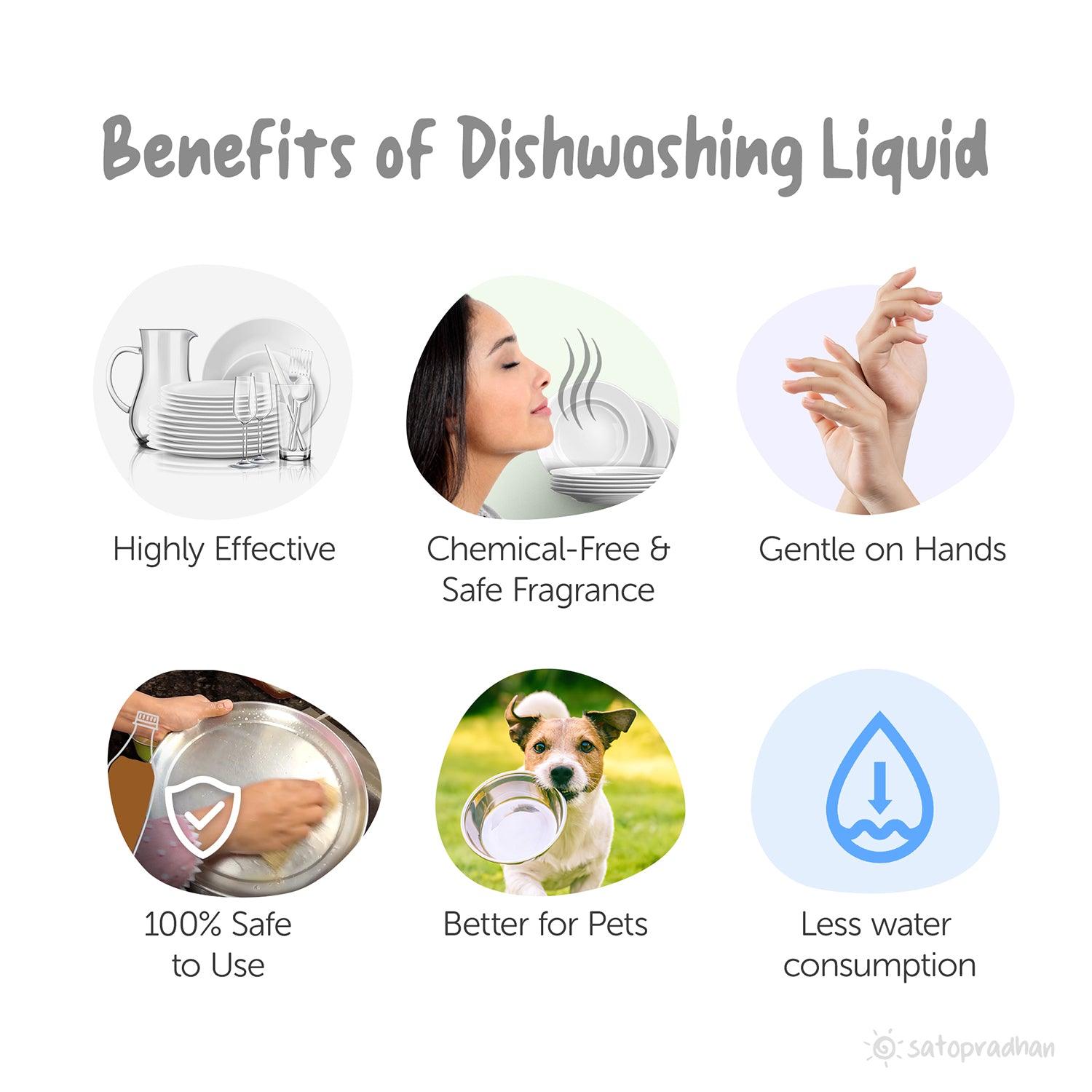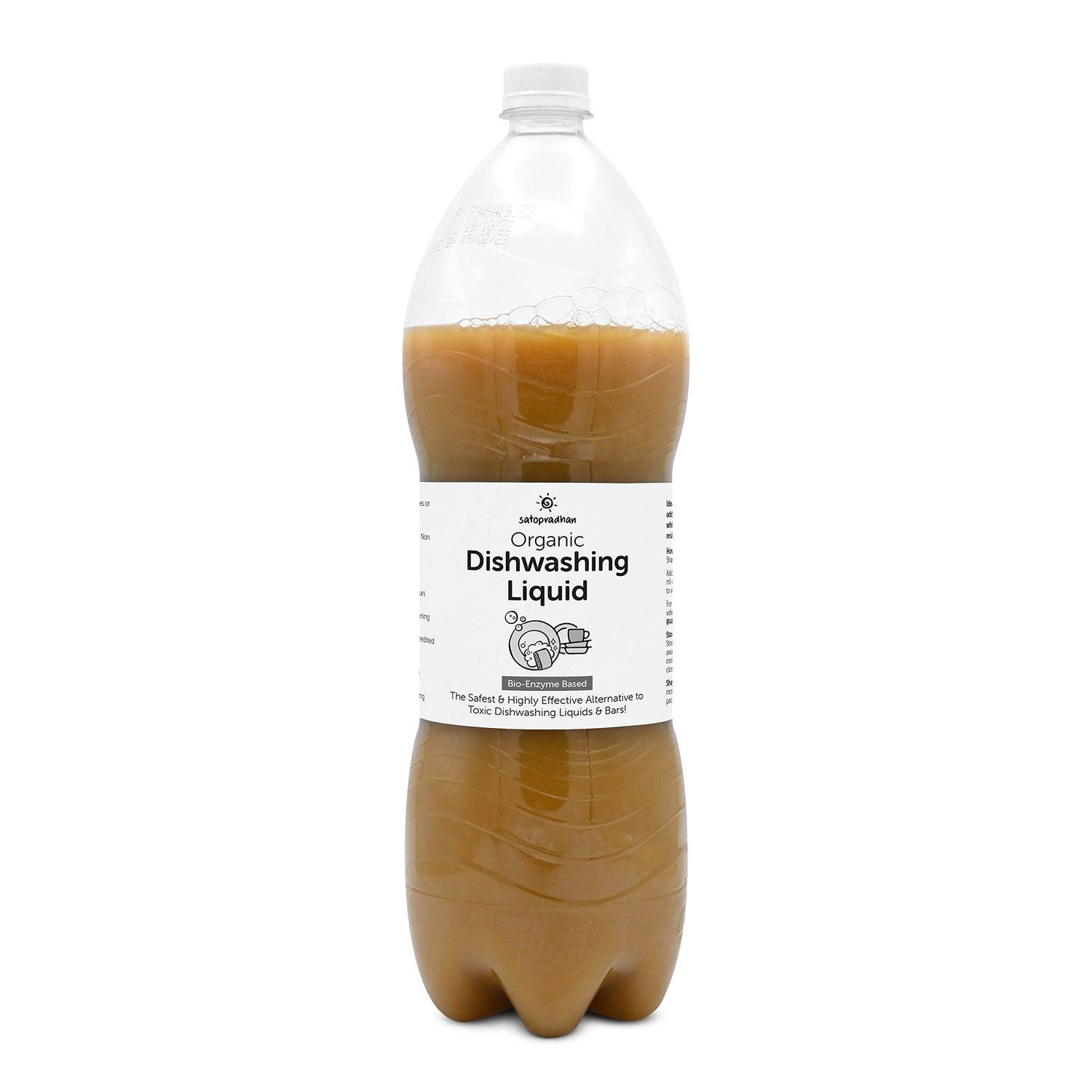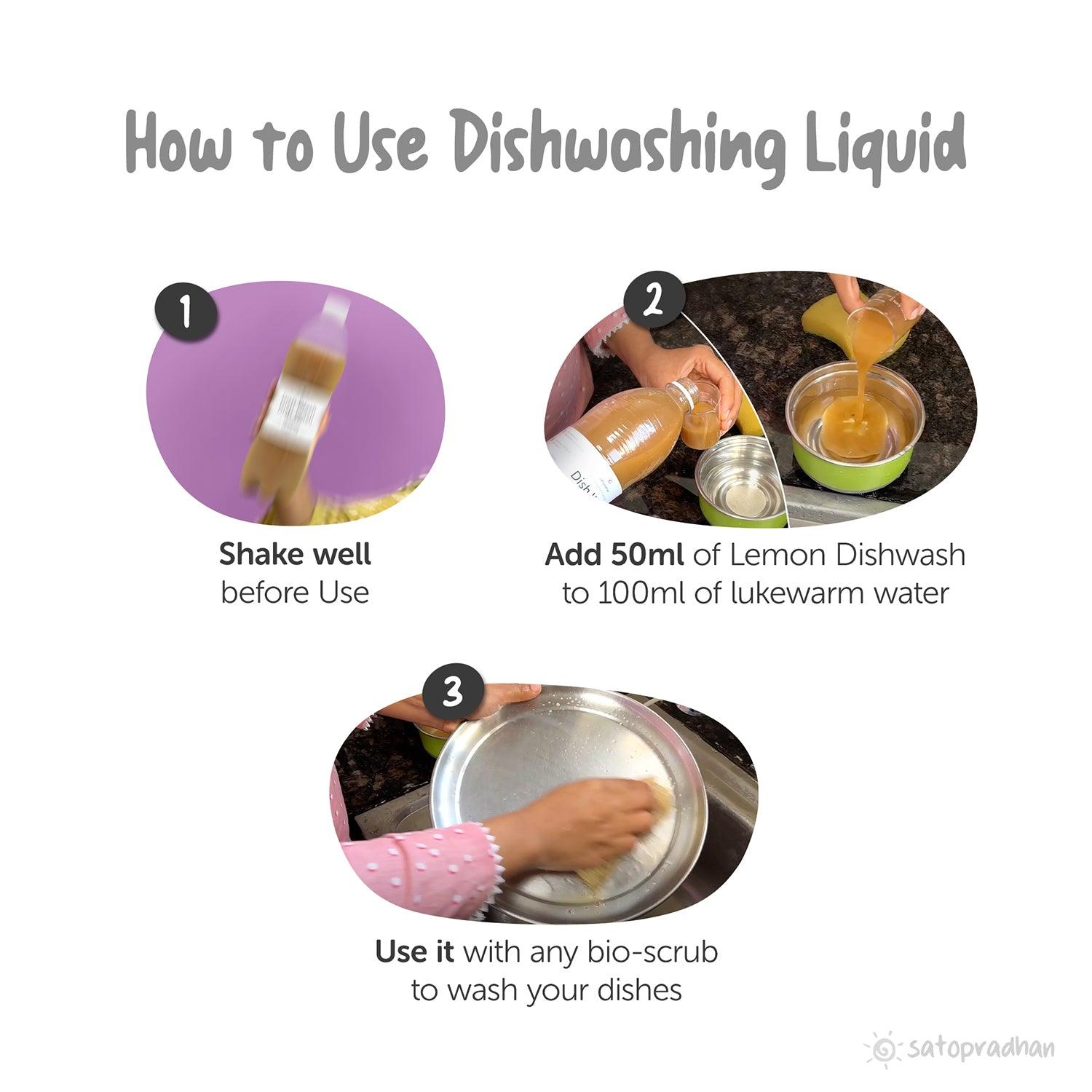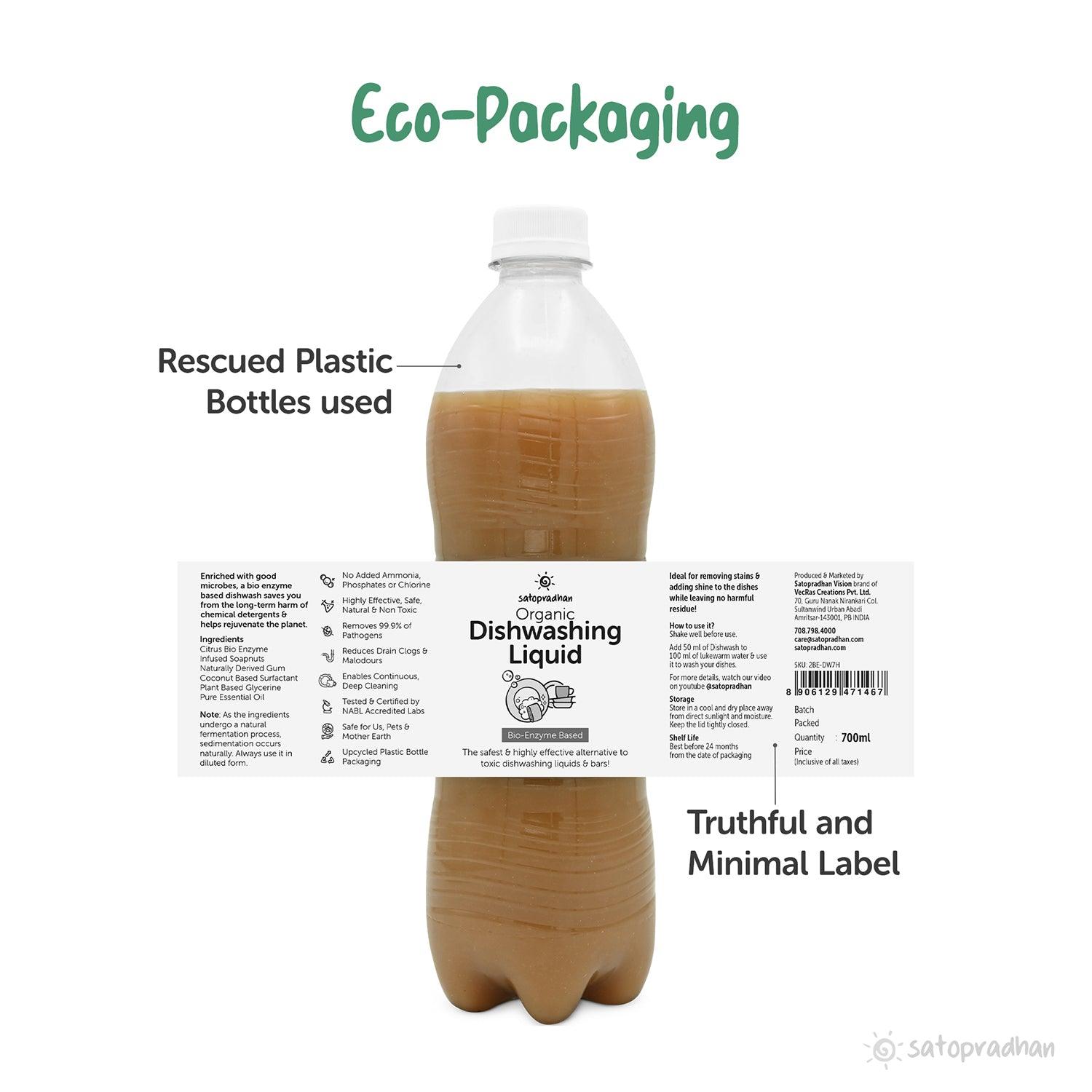 Organic Dishwashing Liquid 700 ml & 1.9kg | Non Toxic Dishwashing Liquid for Sensitive Hands | Disinfectant for Utensils
A must-have natural household cleaner made from the simple fermentation process to help remove stains & add shine to the dishes. It is enriched with the cleaning & refreshing properties of lemon and Soapnuts.
Ingredients
Citrus Bio Enzyme
Infused Soapnuts
Naturally Derived Gum
Coconut Based Surfactant
Plant Based Glycerine
Pure Essential Oil
Key Features

No Added Ammonia, Phosphates or Chlorine
Removes 99.9% of Pathogens
Tested & Certified by NABL Accredited Labs
Safe for Us, Pets & Mother Earth
Prepared Naturally with Pure Vibrations
Upcycled Plastic Bottle Packaging
Good for You
Residual Cleaning: Bio enzyme Cleaners perform residual cleaning, i.e., the cleaning never stops. The enzymes in them keep working until all the soil stains & malodours are completely removed.
Highly Effective: They work well for any utensils, even the greasy ones, and leave them cleaner & shinier with a refreshing lemon fragrance.
Chemical-Free & Safe Fragrance: Made with 100% pure & non-toxic ingredients, Satopradhan Cleaners help make your dishes free of harmful chemicals & fragrances like SLS, triclosan & phosphates.
Gentle on Hands: Bioenzymatic Cleaners are highly effective & safe to use for humans. The mild coconut-based surfactant & soapberries used in them possess natural moisturizing properties that make the skin soft & smooth.
Safe to Use: After washing, the chemicals in cleaners keep lingering on your dishes and ultimately enter your body through the food you eat. Bio enzymes, being 100% natural, plant-based cleaners, help you get rid of such chemicals entering your body & thus prevent diseases.
Better for Pets

Safe for Use Around Pets: Some chemicals, if ingested or absorbed through the paws, can cause diarrhea, itching, and other unpleasant problems for your pet. Bio enzyme cleaners are entirely natural, contain no harmful chemicals & can be used around pets' trays.
Best for the Environment

Enhances the Number of Good Microbes: They help regain balance in the ecosystem by increasing the population of beneficial microbes against harmful microbes.
Conserves Water: Due to high anti-fungal properties & low foaming, they require much less water whilst washing the dishes than any other commercial dishwashing liquid.
Rejuvenates the Water Bodies: Every 1 ml of bio enzyme helps rejuvenate 1000 ml of contaminated water, i.e., with every wash when it goes down your drains, it helps purify the water bodies.
Helps Eliminate Drain Odor & Mosquitoes: The increasing population of harmful microbes is the main cause of any odor & pests down the drains. The bio enzyme cleaner enhances the number of good microbes against harmful microbes & helps get rid of any odor and mosquitoes like cockroaches. It also helps keep your drainage system clean and smooth & prevents any blockage.
How to Use it?
Shake well before Use. Add 50 ml of Lemon Dishwash to 100 ml of lukewarm water & use it with natural loofa or any biodegradable scrub to wash your dishes.
For greasy & stubborn deposits, use Satopradhan Tough Stain Cleaner.
Storage Instructions: Store in a cool and dry place away from direct sunlight and moisture. Keep the lid tightly closed.
Shelf Life: For best results, use it within 9 months.
Note: As the ingredients undergo a natural fermentation process, sedimentation occurs naturally. Always use it in diluted form.

Eco-Friendly Note: We played our part by repurposing the wasted plastic bottles; now it's your turn to send them for recycling after use :)
Organic Dishwashing Liquid 700 ml & 1.9kg | Non Toxic Dishwashing Liquid for Sensitive Hands | Disinfectant for Utensils
ECOFRIENDLY AND GUILT FREE KITCHENING !!
Love the fragrance of citrus fruits while washing.. completely clean and safe for hands. 100% satisfied and finally got what I was searching for. many thanks and cuddos to the entire team's hard work and dedication for soulful products
Dishwashing liquid and disinfectant.
Gentle on hands.Serves the purpose well.Safe for the environment.Thankyou.😊
Delivery too late but product is very nice 🙂
The best Dishwasher cleaner ever 100% pure & chemical free.Must buy & try.