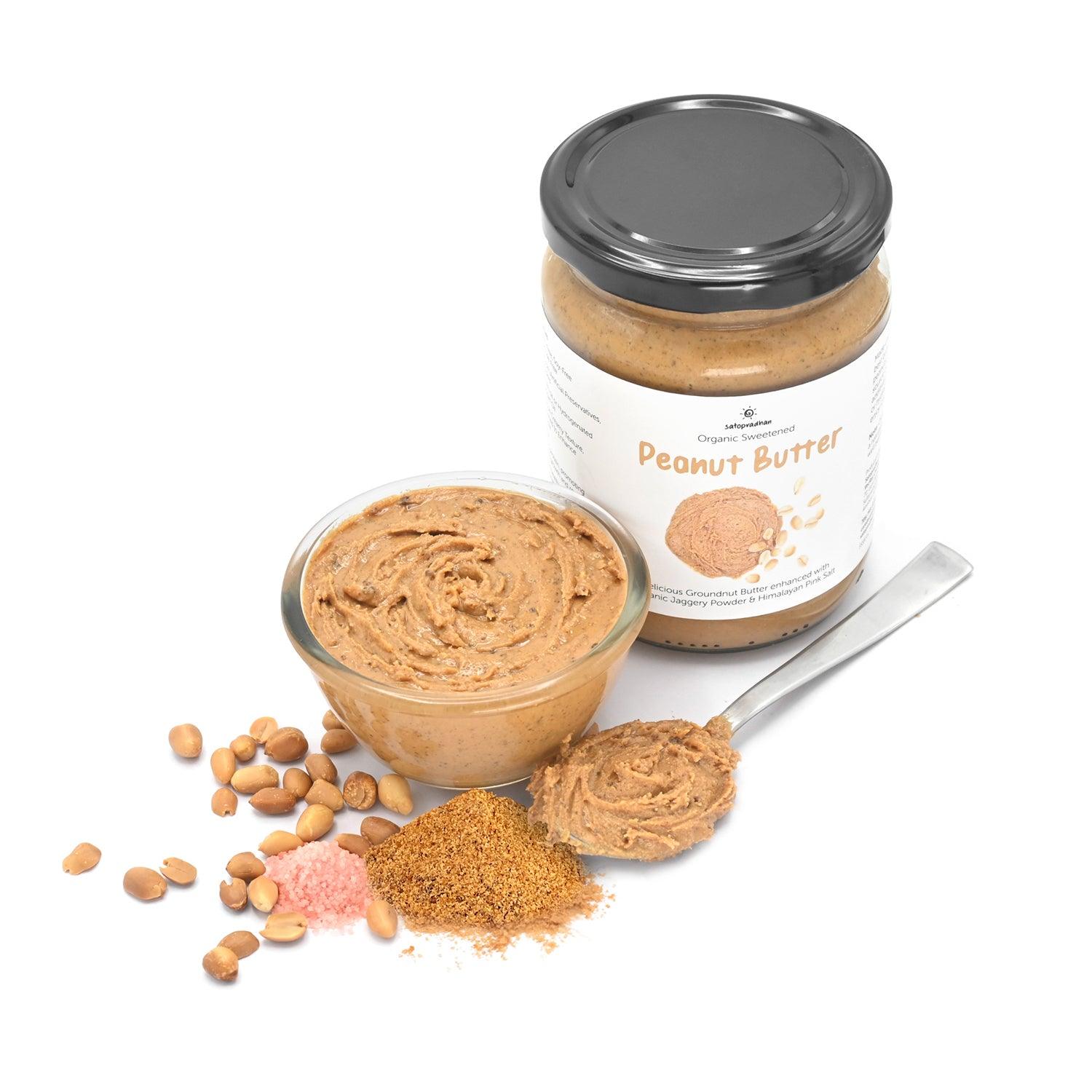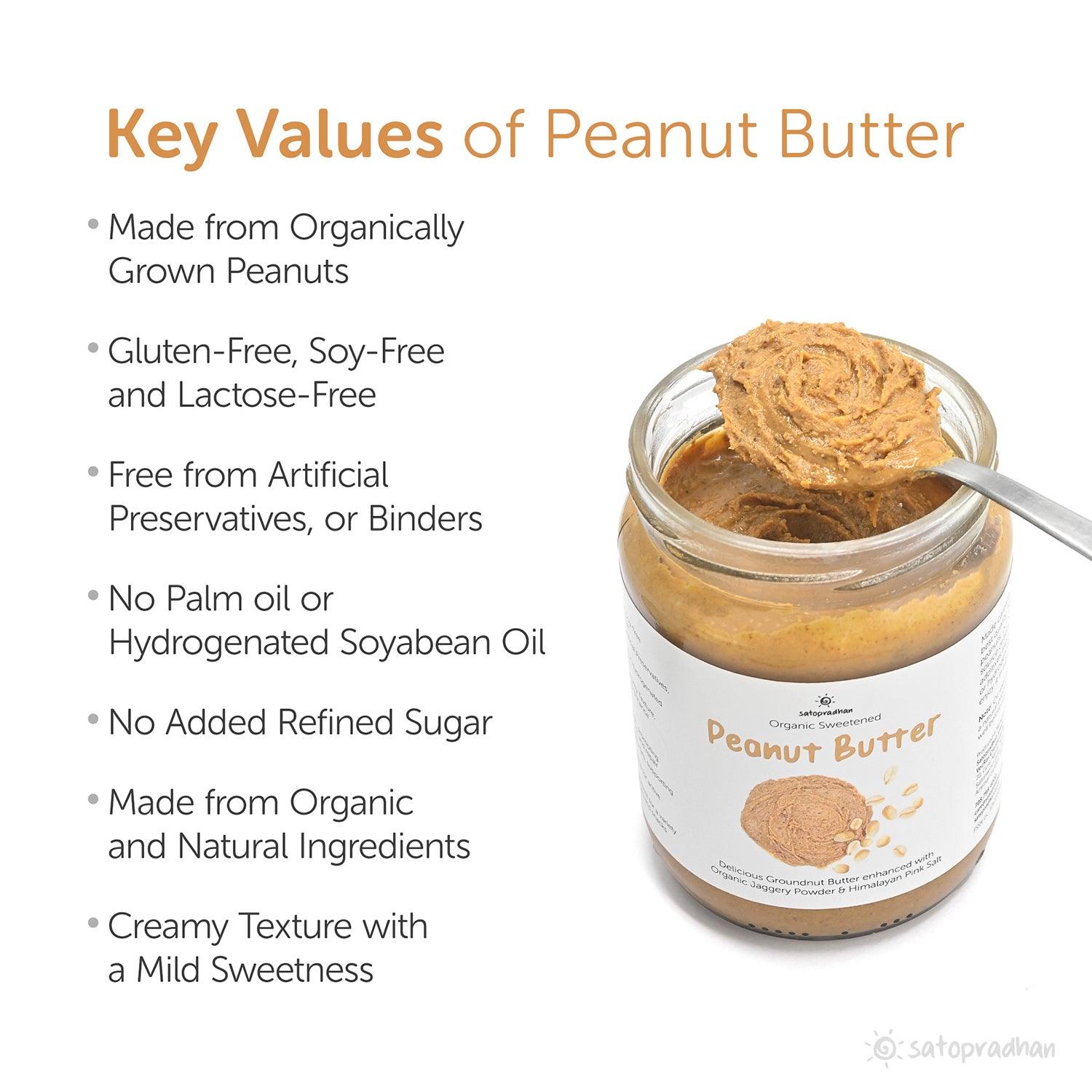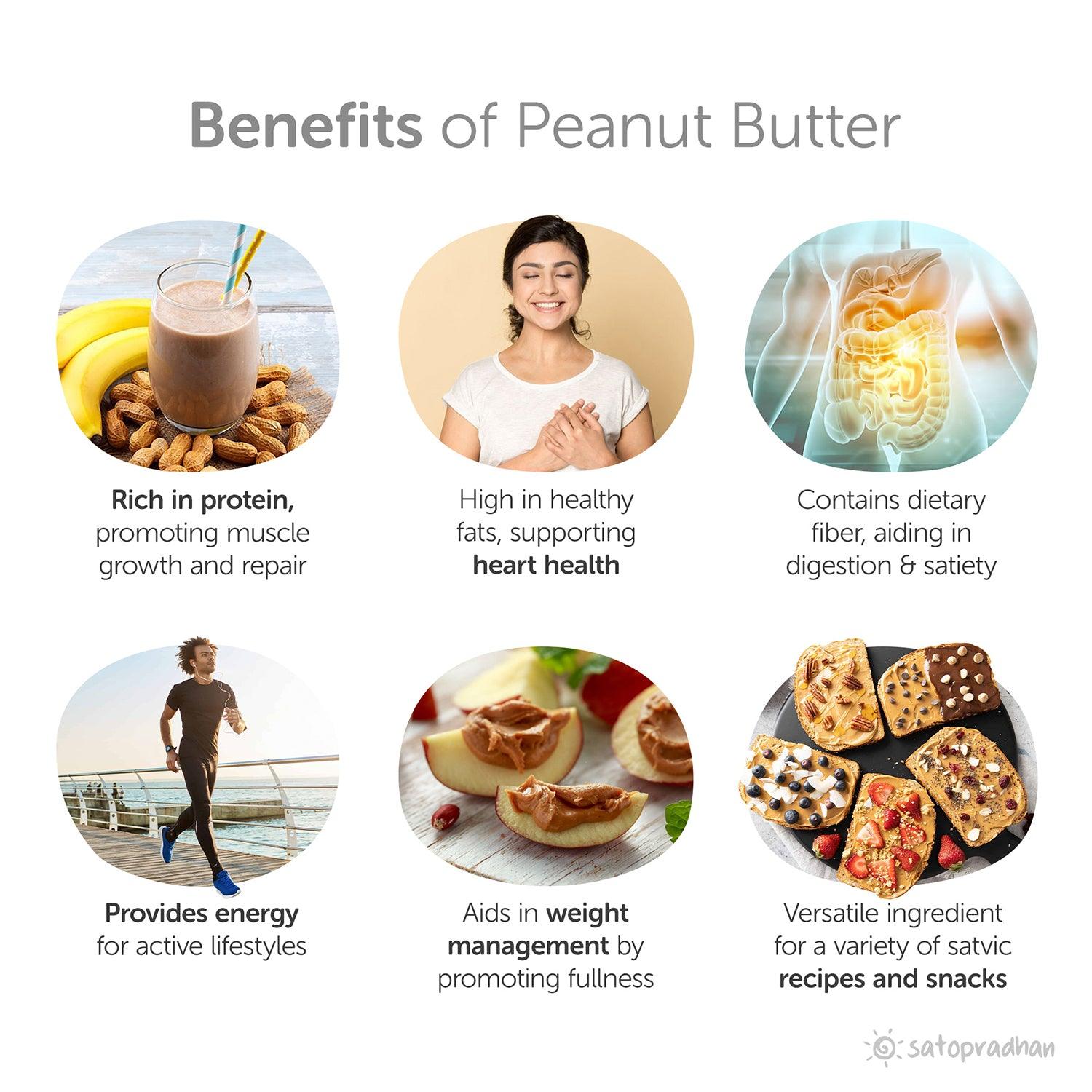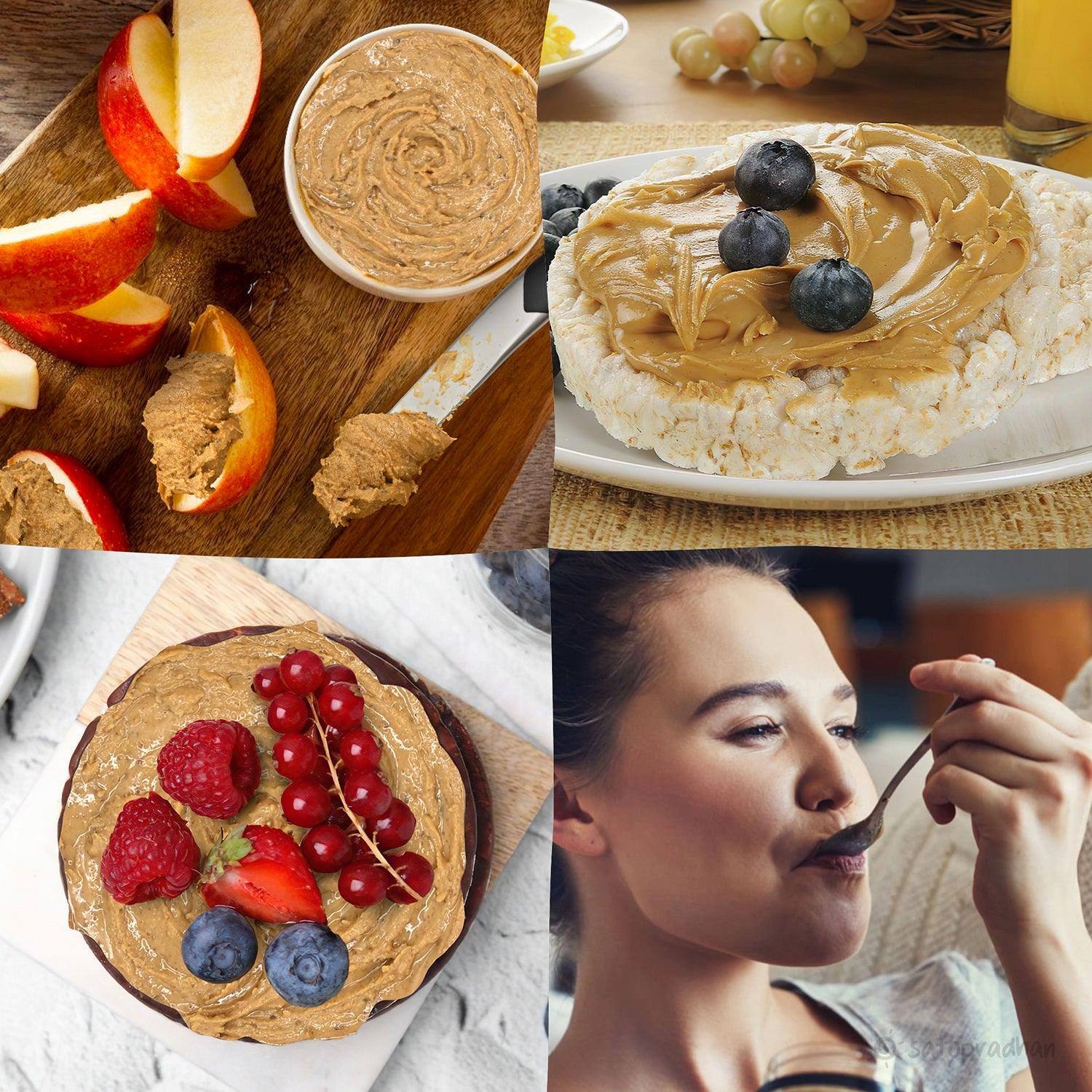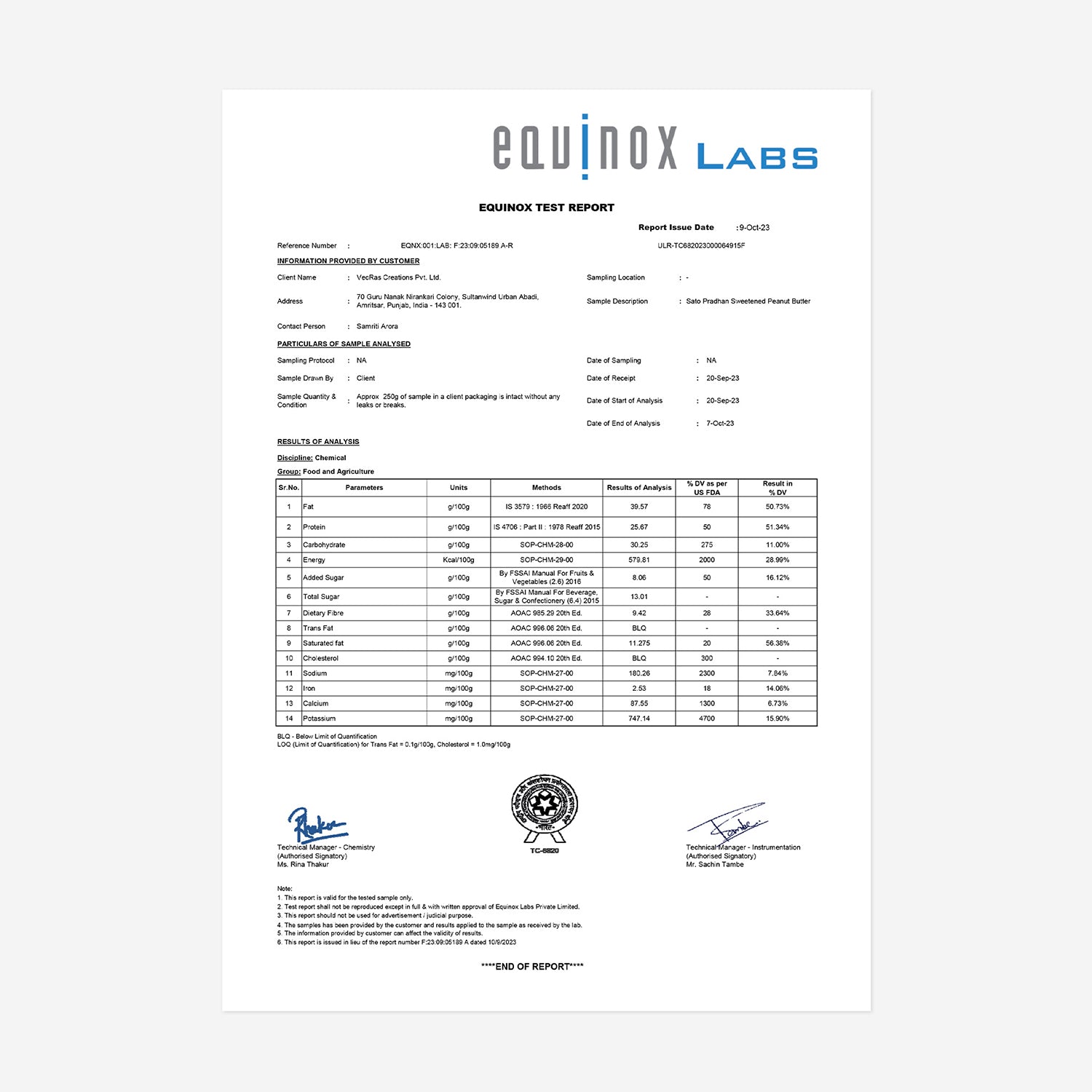 Natural Peanut Butter Creamy - 500g | Mildly Sweetened with Organic Jaggery Powder | All Natural, Gluten-Free & Vegan | Ghungroo/Java Peanuts | No Hydrogenated Soyabean Oil or Refined Sugar | Plant-Based Protein & Healthy Fats
Ingredients
Organically Grown Groundnuts
Organic Jaggery Powder
Himalayan Rock Salt Pink
Key Values

Made from Organically Grown Peanuts
USFDA Nutrition Facts
Gluten-Free, Soy-Free & Lactose-Free
Free from Artificial Preservatives, or Binders
No Palm oil or Hydrogenated Soyabean Oil
Vegan with No Added Refined Sugar
Made from Organic & Natural Ingredients
Creamy Texture with a Mild Sweetness
Benefits
Rich in protein, promoting muscle growth and repair
High in healthy fats, supporting heart health
Contains dietary fiber, aiding in digestion and satiety
Provides energy for active lifestyles
Aids in weight management by promoting fullness
Versatile ingredient for a variety of satvic recipes and snacks
Usage

Add a spoonful of peanut butter to your smoothies for creaminess
Dip fresh fruits like apple slices or banana chunks in peanut butter for a wholesome snack
Incorporate it into homemade energy balls or date-based desserts
Swirl peanut butter into your morning oatmeal along with fruits and nuts for extra flavor and texture
Make energy bites or protein balls using peanut butter, oats, nuts, and seeds for a convenient and nutritious snack
Create a creamy peanut butter dressing for salads by combining with citrus juice, herbs, and spices
Use peanut butter as a base for making homemade cookies
Fill pitted dates with a small amount of peanut butter & top it with soaked nuts & seeds for a natural, energy-boosting snack.
Mix peanut butter with chia seeds, plant-based milk, and a touch of sweetener for a nourishing chia pudding
Essential Info
Note
Oil separation is a natural process. Stir well before use.

Storage
Store in a cool, dry & dark place away from moisture & direct sunlight.

Shelf Life
Best before 6 Months from the date of packaging

Scrumptious 😋
The peanut butter is too yum I love it in sandwiches Thank u Satopradhan for providing 100%pure and delicious peanut butter
Delicious 😋😋
The peanut butter is super tasty. I have even tried it with apple and banana. It was so pure and delicious. Please get it back in stock asap❤️❤️
Loved it...
Taste was yummy.
Packing was great.
ground nut butter
It's really very good taste and I love it
ground nut butter
It's really very good taste and I love it